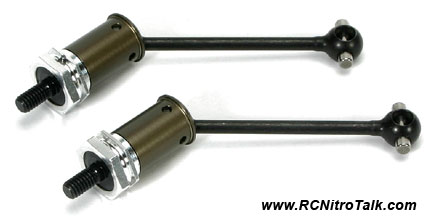 With the growing popularity of brushless motors and lipo batteries comes more strain on the drive train of any RC as brushless motors are becoming much more powerful then their brushed motor counterparts. K-Factory has just released a new set of high strength CVD for the Team Magic E4 touring car.
The improved strength comes from the use of specially developed K-Factory ST-Steel and an increase in drive shaft thickness. Thicker and stronger universal joints combines with a lightweight aluminum wheel adapter which helps reduce the overall weight and keeps the rotating mass of the E4 transmission as low as possible.
If you're running brushless in a Team Magic E4, take a closer look at these new universal joints from K-Factory. They are the ideal upgrade for improved durability and performance!
Part #: K2111
Discuss the new K-Factory CVD's in our On-Road Touring Car forum!