Tamiya Agrios TXT-2 Monster Truck kit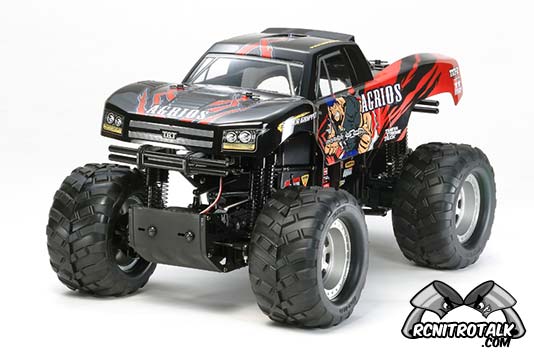 Say hello to Tamiya's latest with 540 motored 4WD monster truck kit, the Tamiya Agrios TXT-2! The Tamiya Agrios TXT-2 kit allows you to build the truck from the ground up and install your own electronics and customize it as you see fit – such as including a second servo to the back of the truck to enable four wheel steering!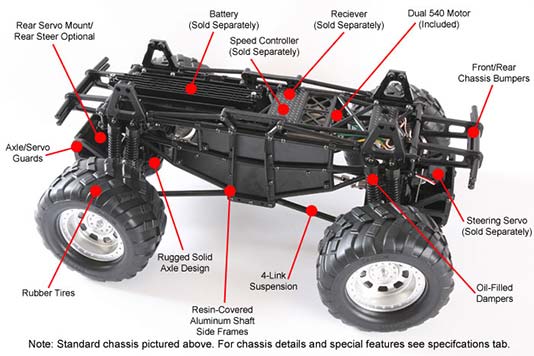 The Agrios TXT-2 truck body sits on the new Tamiya TXT-2 chassis which is an evolution of the original TXT-1. The combined use of metal parts with tough plastic lends the Tamiya Agrios TXT-2 Monster Truck kit a genuine feeling of power and scale. The truck comes equipped with two 540-brushed motors and is capable of 4-wheel steering when a second servo is added to the rear axle.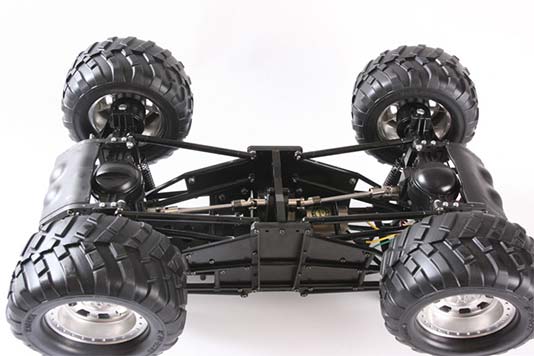 Tamiya Agrios TXT-2 Features:
Scale: 1/10 scale
Construction type: assembly kit
Terrain use: multi-purpose
Drive-train: 4 wheel drive
Drive type: gearbox
Drive line: solid axle
Differential type: gear
Suspension: 4-link
Steering mechanism: direct servo
Shock damper: oil-filled damper
Shock damper material: plastic
Tire type: rubber
Tire tread: block-pattern
Body material: Polycarbonate
Chassis material: Black resin-covered aluminum shaft
Electronic Speed Control (ESC): not included
Motor: 540-brushless type
Bearings: shielded ball bearing
Adjustable camber: fixed
Adjustable toe angles: fixed
Adjustable ground clearance: fixed
Adjustable gear ratio: fixed
Adjustable wheelbase: fixed
Adjustable track width: fixed
Adjustable shock angle: fixed
Special feature 1: Black resin-covered aluminum shaft side-frames are fitted with black aluminum panels.
Special feature 2: Centrally-positioned gearbox with front and rear aluminum beams.
Special feature 3: Resin upper frame serves as R/C unit cover and battery holder.
Special feature 4: Two 540-motors included.
Special feature 5: Front and rear axle cases contain 3-bevel differential gears and have a 2-level transmission.
Special feature 6: 82mm width tires
Special feature 7: Length: 510mm, Width: 344mm Height: 282mm
Requires A: 7.2 battery & charger
Requires B: 2-channel radio gear
Requires C: electronic speed control
Requires D: polycarbonate paint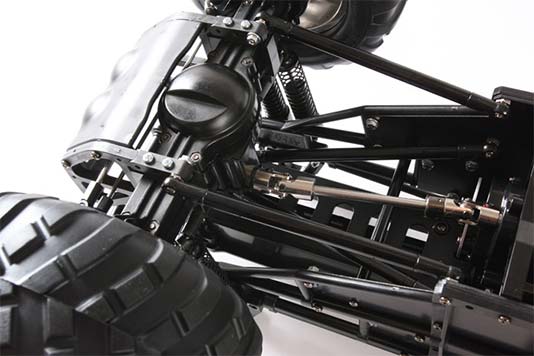 Part #: 58549 – Tamiya Agrios TXT-2 Monster Truck kit
MSRP: $729.00