Racers Edge has added their own .32 engine to the mix of BIG block engines, the Racers Edge SURE FIRE .32 nitro engine with a turbo modified crankshaft and turbo oneway bearing. Racers Edge claims their engine will produce up to 3.6HP at 38,000 RPM – maybe this is what I need for my MGT!
The Sure Fire .32 engine materials, machining & craftsmanship have been proven by the HPI 4.6 engine. The Sure Fire .32 engine is made in the same factory and has been customized and tweaked to Racers Edge specifications including, porting, displacement, turbo modifications and more, such as the internal oneway bearing allows for easy conversion to our optional roto start or non-pullstart backplates without any modification.
The easy bolt on backplate options are:
#RCESF10565 SUREFIRE .32 NON PULL BACKPLATE
#RCESF10570 SUREFIRE .32 ROTO START BACKPLATE
The Enormous amount of torque is perfect for big trucks like the MGT,
Savage, LST, Truggys and more! The Sure Fire .32 turbo machining on the crankshaft and oneway bearing increases performance by mixing the fuel and air better and by literally shooting the fuel up to the ports.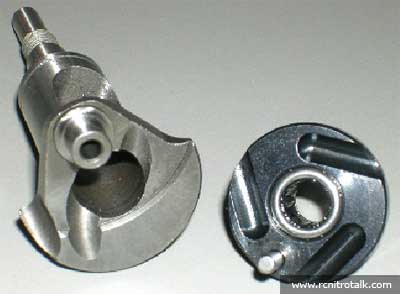 Discuss the new Racers Edge Sure Fire 32 in our R/C Power Plants forum!