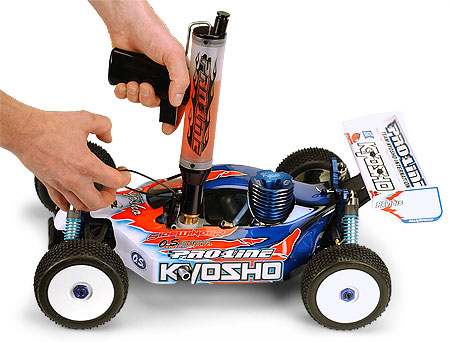 Proline Racing has just released a new fuel gun – the Straight Shooter fuel gun. The Straight Shooter derives from years of pit experience. A variety of information from Pro-Line's team drivers was recorded to give you the fastest pit experience possible. The end result is a fuel gun that offers a wide array of features and benefits that any pit guy, or pit gal, will appreciate.
Features:
Holds up to 170cc of fuel
Dumps 135cc of fuel in just 1.5 seconds
Super-smooth trigger action with precision fit and finish
No leak O-rings on fuel reservoir and barrel
Translucent fuel reservoir for easy visibility of fuel level
6061 aluminum black anodized end caps
Ergonomic injection molded pistol grip
Light weight and durable
Stylish pad printed Pro-Line flame logo
Part #: 6035-00
MSRP: $75.00
Join our discussion about the new Straight Shooter fuel gun in our General Nitro Talk forum.