Sportwerks Turmoil Pro 1/8 4WD ARR Buggy
RCTalk is supported by our readers. When you purchase through links on our site, we may earn an affiliate commission. Learn more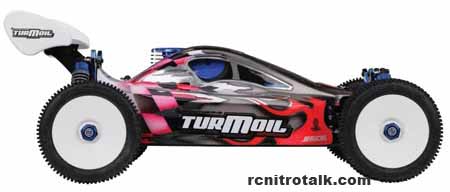 The Sportwerks Turmoil Pro is sure to cause a commotion wherever you take it. Factory-built to exacting specifications, the Sportwerks Turmoil Pro brings the ultimate combination of performance parts and competition design to the backyard or the track. From the anodized aluminum parts and rigid chassis bracing, to the advanced steering and suspension design, the Sportwerks Turmoil Pro gives you the perfect package for jumping into nitro racing today. Just install your radio gear and prepare for a no-compromise off-road experience.
Key Features:

FCG Chassis 7075 T-6 aluminum, hard anodized
Torque Rod Stiffeners
Machined Aluminum Inner Suspension Mounts
Blue anodized wheel hubs
Blue anodized capped wheel nuts
45 degree CVD's front/rear/center
CVD dust boots
Hard coated bevel and spider gears
5mm Front and Rear Shock Towers
Rubber shock boots
Ackerman adjustable steering rack
Fuel tank with multi position pressure tap
One-piece engine mount
13T clutch bell
Aluminum T-6 7075 clutch shoes
007 HT tuned pipe with round header
Come talk about the new Sportwerks Turmoil AAR buggy in our 1/8th scale Buggy Talk forum!
Link: Sportwerks Turmoil