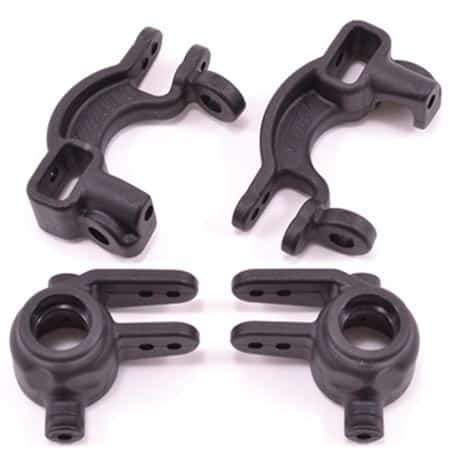 RPM has added to their already long list of durable parts for the Traxxas Slash 4×4 and Traxxas Stampede 4×4 trucks with their new Caster and Spindle blocks. RPM used a lower-case "H" structure for their core design when designing the caster blocks which provides extreme rigidity to keep camber and caster setting locked in place while running normally.
RPM steering blocks have also been reengineered for durability, strength, rigidity and crash-survivability. More material surrounds the kingpin posts while smoother flowing turnbuckle arms assure consistent feel and performance from the steering system.
The RPM Slash 4×4 / Stampede 4×4 front-end components are made from their trademark blend of indestructible materials and come factory backed by RPM's limited lifetime warranty for strength and durability you know you can trust!
Tech Notes: RPM caster blocks and steering blocks for the Slash 4×4, Stampede 4×4 and Rally are sold as a set, including 2 caster blocks and 2 spindle blocks. These parts are not interchangeable with stock or aftermarket steering blocks / caster blocks. Running any part of this system with other stock or aftermarket steering blocks or caster blocks may void the RPM warranty.
Part #: 73592 Slash 4×4 & Stampede 4×4 Caster Blocks & Spindle Block
MSRP: $19.95