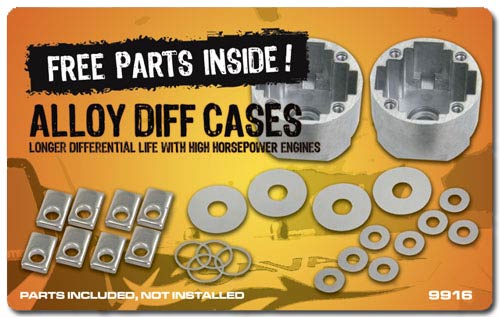 The HPI Savage X has proven to be the industry benchmark for drivetrain durability. To stay ahead of the competition, HPI is now including free parts that make the Savage X even tougher for heavy-duty driving with powerful engines. RTR Savage X trucks now include the heavy-duty alloy diff parts developed for the high performance Savage X SS kit. Boxes with a "Free Parts Inside" sticker on the front will include the parts to convert the front and rear differentials to tough alloy metal cases with shims and beefed-up internals. The new alloy diffs have proven to be a very durable set-up that is capable of handling extreme power, and they're one of the most popular upgrades for Savage owners. And now… they are included for free in specially marked RTR Savage X truck boxes!
As an added bonus, an original Savage slipper clutch and spur gear are also included. The original slipper works great for high horsepower applications and allows a wider variety of gearing options. Complete installation instructions are included for all of the free upgrades.
Note: This limited time offer is valid for North American customers only.