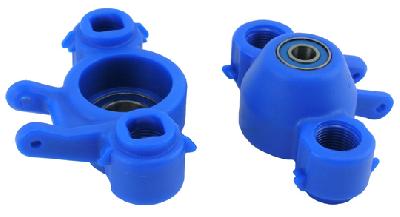 Well RPM has manged to take a sweet monster truck such as the Revo and find a way to improve it when you thought there wasn't a way to improve it – introducing the RPM axle carriers for the revo!
They've painstakingly redesigned our axle carriers for the Traxxas Revo to improve the durability, strength, and reliability of this much-abused part. The most noticeable difference over a stock part is the addition of two huge bearings per axle. Our outer bearings are the same as the ones used in our beefed-up T-Maxx axle carriers a 15mm diameter by 5mm wide bearing. Additionally, the new inner bearings are a huge 21mm in diameter and a fat 5mm wide as well. Both bearings are 3mm larger in diameter and 1mm wider than the stock inner and outer bearings. The extra width adds a total of 2mm of additional contact with the axle for super smooth, longer running performance. RPM bearings are corrosion-resistant stainless steel, ABEC-3 quality bearings with our blue nylon shields for the ultimate in dirt & rust protection. The bearings included with each kit have bearing balls 33% larger than the stock version, twice the load rating over the stock bearings, and over 3x the fatigue life as well!
They have also include 4 two-piece aluminum setscrews that use Delrin bushing caps eliminating the stock nylon setscrew. The stock nylon setscrews allow the pillow-balls to move around under heavy loads. RPM two-piece setscrews eliminate any possibility of slop in the system with stronger threads and nearly double the surface contact on the pillow ball for better, more consistent set-ups, especially under heavy loads and impacts.
The RPM axle carrier maintains all of the stock geometry, yet has been redesigned to improve strength in key stress areas. They even added over 40% more material to the walls surrounding the pillow ball setscrews to prevent blowouts of the pillow-ball through the side of the carrier and over 20% more material to support the pillow-balls from pulling through the carrier.
RPM axle carriers for the Traxxas Revo come in multiple color options – black, blue, and a dyeable white version for the utmost in versatility to match or contrast any vehicle's color scheme. RPM carriers are molded in our trademark blend of nylons and come with all necessary parts including; one left and one right side axle carrier, 2 outer 15mm bearings, 2 inner 21mm bearings, 4 aluminum setscrews, 4 Delrin bushing caps, and thorough instructions to help install our carriers correctly. Replacement bearings come with 2 inner 21mm bearings and 2 outer 15mm bearings in each package.
Suggested Retail
$34.95 / pair
$18.95 / set replacement bearings