RPM Axial Yeti XL Front Lower A-arms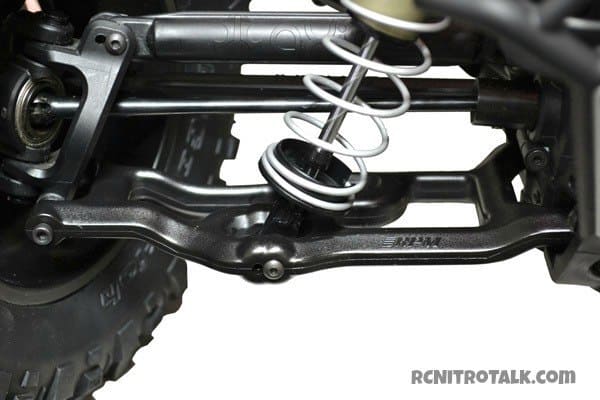 RPM has designed a set of lower front a-arms for the Axial Yeti XL. Not only made from their well known nylon blend that is incredible durable but RPM has also improved the lower front a-arms by removing as much as 0.004″ (0.1mm) of slop from the inner and outer hinge pins. RPM has also added additional clearance around the bellcrank center-link to allow for more up-travel without the impact that the stock A-arms and center-link encounter at full suspension up-travel.
Tech Notes: RPM Yeti XL A-arms replace stock Axial #AX31018. The Yeti XL we reviewed had A-arm hinge pins holes that were roughly .004" (0.1mm) – .005" (0.13mm) oversized from nominal. Furthermore, the hinge pins were roughly 0.005" (.13mm) undersized as well, creating as much as .01" (0.25mm) of combined suspension slop. Nominal sizes are 0.118" (3mm) and 0.1575 (4mm). RPM recommends checking your hinge pins for size and replacing them with on-sized pins (not available through RPM) for dramatically improved suspension performance above and beyond the improvements created when installing RPM A-arms.
Buy Now – AMain
Part #: 73852 – Axial Yeti XL Front Lower A-arms – Black
MSRP: $18.95