Robitronic has announced the release of the AVID 1/10th Scale Electric Touring car. The Robitronic AVID is a high-end touring car designed specially for professional drivers.
While there are several high quality competition level cars currently on the market. All of them have many special features that help them stand out on the track. Robitronic started the design with this question: What can we do better? So the Robitronic Avid was designed for maximum performance, easy handling and a lot of new features in the touring car sector.
The high-efficiency drive-train with extra large belt pulleys, super strong and smooth aluminum differentials and an improved suspension and steering geometry for maximum corner speed makes the Robitronic Avid ready for competition. The AVID chassis is highly developed and require complex manufacturing processes, with special features like new form-fit technology for all chassis and suspension parts. Aluminum is all over this car with steering knuckles, rear hubs and battery mounts as a standard item.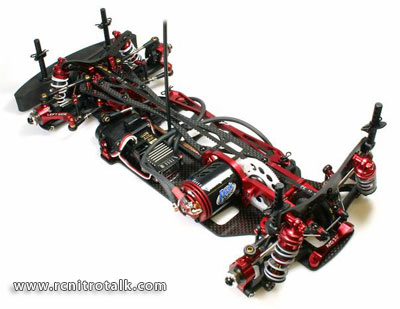 Robitronic AVID Specifications
Width: 188mm
Length: 360mm
Wheelbase: 252-260mm
Gear ratio: 1.77
Toe-in front inside: 0° ~ -3°
Toe-in rear inside: 0° ~ +3°
Kick-Up front: -3° ~ +°
Anti-Dive rear: 0° ~ +°
Caster rear: 2°, 3°, 4° and 5°
Roll center position: 3
Ackerman position: 2
Part #: R39100 – Avid Pro 1/10 Electric Touring Car
MSRP: $685.00
Discuss the new Robitronic AVID Touring Car in our On-Road Touring discussion forum!