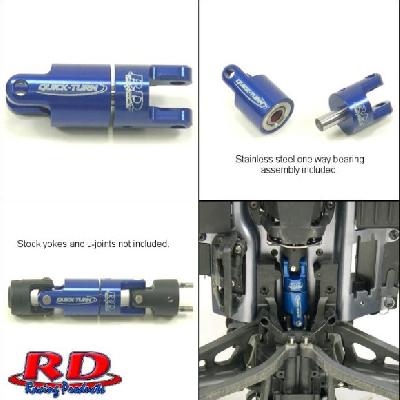 RD Racing Products is proud to announce the release of our Quickturn (Patent Pending) Drive Shaft for the Traxxas REVO Monster Truck.

Our REVOlutionary Quickturn Drive Shaft eliminates the front brakes and will dramatically improve the cornering of your REVO. Utilizing a concept taken from 1/8th scale buggy racing, the one way bearing design of the Quickturn allows the rear end of the REVO to rotate into and through turns and pull hard coming out of turns. It also makes jumping much more controllable by smoothing out in air flight attitude adjustments made while using the brake or throttle.

Our Quickturn Drive Shaft has been race tested and proven for durability and strength. A stainless steel one way bearing assembly and hardened steel drive pin ensure long lasting performance from the Quickturn Drive Shaft.

Uses the stock Traxxas REVO differential and brake yokes as well as the stock Traxxas REVO u-joint assemblies.