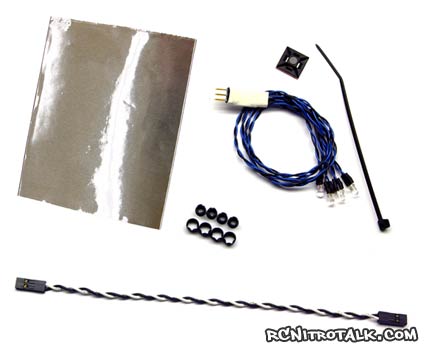 When it comes to R/C LED Lighting sometimes all you really need is a set of lights to give your project that final touch. The microSYSTEM from RC-Lights is a streamlined version of their Plug-N-Play system with complete elimination of connectors between the control board and the LEDs; while keeping the same control inputs found on a PnP LED controller – LINK – PWR – AUX.
RC-Lights R/C LED microSYSTEMS put the most common configurations of R/C lights in the hands of hobbyists without sacrificing the incredible LED brightness or the quality craftsmanship that goes into each RC-Lights LED lighting system. 100% compatible with both Plug-N-Play electronic control switches – RCL5090 and RCL5092.
Universal R/C LED Lighting solution for cars, trucks, airplanes, helis, boats and everything in-between.
Brightest LEDs industry wide
Powers directly from the RX, or optional battery sources
Simple installation instructions
Fast body removal
Less than 1oz. installed
All installation hardware included
Compatible with Plug-N-Play electronics