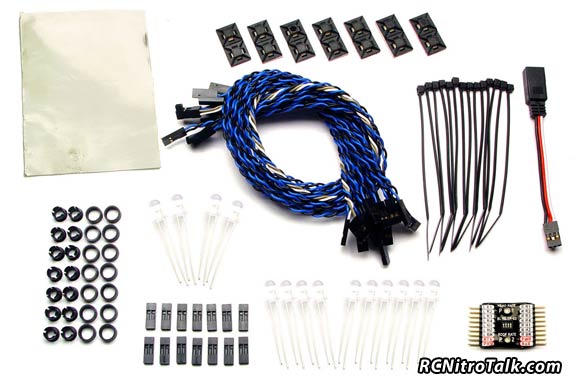 Looking to turn your latest R/C body into a police car, everything looks good just missing all the flashing lights? Well RC-Lights has come through for you again with their latest 14LED 911Strobe system!
The RC-Lights 911Strobe features fully-adjustable rate alternating roof strobe lights, dual intensity brake light action is built right in! Throttle channel input fully reversible and LEDs can be directly powered from the throttle channel of the RX using the included RX Pass-Thru (mini Y-harness).
Auxiliary channel input can be used to switch power ON/OFF to the entire unit from a 2-position switch on the TX or it can be used to turn the "lights" ON/OFF so that headlights are constant and strobes are OFF until the switch is flipped then the headlights strobe and the roof strobes turn on.
LEDs are split into five banks: 4 constant/strobing headlights (2 each side R & L; headlight strobe rate fully-adjustable); 8 roof strobes (4 each side R & L; roof strobe rate fully-adjustable); and 2 switched dim or full bright depending on throttle stick position (GAS or BRAKE.)
Throttle and auxiliary center-stick auto-detect for precise lighting effects every time.
Full-feature functionality built right in: headlight strobes, roof strobes, and dual intensity brake lights for the ultimate in scale lighting effects for any scale police / emergency vehicle body.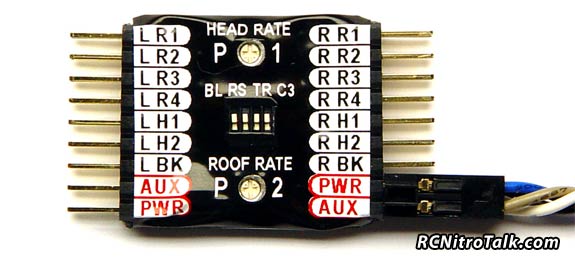 Bundled with this complete system: #5024
#5014: Is a universal LED system that can be installed in any 1:12 to 1:8 size Radio Control Car or Truck with accessible throttle servo or ESC plug and optional available auxiliary channel. Everything needed for a complete installation is included with every system. 4 white headlights, 4 blue roof strobes, 4 red roof strobes, and 2 red dual-intensity electronic brake lights are all included.
Best of all, ALL LEDs are backed by a lifetime warranty through RC-Lights!