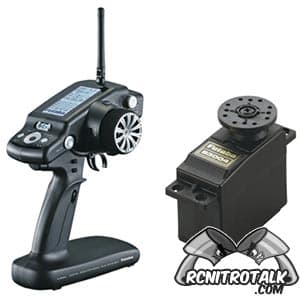 From now through April 30th, 2012, Futaba, is giving away a Futaba S3004 server at no extra cost when you purchase a select Futaba radio!
The Futaba S3004 server features dual bearing smoothness and can be used in a wide variety of applications. Some of Futaba's best-selling systems are included in this special offer and provide the advantages of FASST, FHSS and S-FHSS spread spectrum technologies.
Purchase one of these popular 2.4GHz Futaba radios and get the S3004 servo free!
FUTK1300 – 3PL 2.4GHz FHSS w/R2004GF
FUTK1400 – 4PL 2.4GHz S-FHSS w/R2104GF
FUTK2021 – 3PMX 2.4GHz FASST w/R603FF
FUTK3100 – 3PRKA 2.4GHz FHSS w/R203GF
FUTK4200 – 4YF 2.4GHz FHSS w/R2004GF
FUTK6000 – 6J 2.4GHz S-FHSS w/R2006GS
FUTK6001 – 6JA 2.4GHz S-FHSS w/R2006GS & (4)S3004
FUTK6002 – 6JH 2.4GHz S-FHSS w/R2006GS & (4)S3001