Last year we debuted the PTI Racing Micro Monster Truck (MMT) chassis prototype at the Hobby Visions show in Las Vegas, Nevada. Since then we've been hard at work to get this awesome truck on the market. During that time, other manufacturers have tried to copy our design, but without much success. A year later and the truck that started it all, the ORIGINAL Micro Monster Truck, is now nearing completion!

Our entry into the R/C car kit market is sure to be a huge hit with it's superior design and great looks. Others may try to copy it, but you just can't beat the original.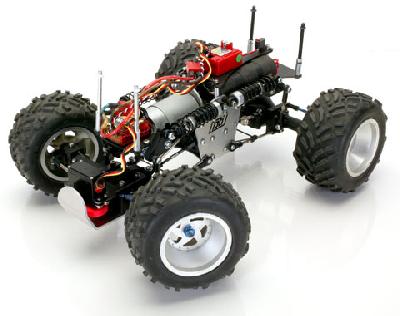 CHASSIS
Type: Ladder frame
Material: Aluminum/Plastic
Steering: FWS (optional 4WS kit available)
SUSPENSION
Type: Cantilever
Damping: Coilover oil filled
DRIVETRAIN
Type: Shaft drive ball bearing supported
Differentials: Adjustable Ball (F/R)
Center Trans: Gear/Center spool
Power: 550 Mabuchi (540 compatible)
Rims: 2.2 inch five spoke
Tires: IMEX Claw Dawgs
DIMENTIONS
Wheel Base: 8″ (217mm)
Width: 10″ (254mm)
Height: 7 1/2″ (190mm)
Ground Clearance: 2″ (52mm)
Articulation: 5″ (126mm)
Weight: 3lbs. 8oz. (1588g)
Measurements may vary slightly from final production vehicle. Weight will also vary depending on electronics.