Take your Savage to the next level with our new 3 Speed Transmission! You get more punch and higher top speed, the best of both worlds! Faster track times, easier wheelies, blistering top speed, better fuel mileage, and lower engine temperatures are the result of this ultimate Savage upgrade.
Internally, the gearbox has been redesigned for extra durability and longer life. Hardened steel is now used for many of the gears and hubs, stronger clutch mechanisms were developed, as well as extensively lightened gears and hubs. The automatic shift points are pre-set at the factory, and can be manually adjusted to suit track conditions.
Two versions of the 3 speed are available: A build-it-yourself kit version that converts the existing transmission to a 3 speed (part #87220), and a completely assembled 3 speed transmission that includes the outer transmission case (part #87128). Complete installation instructions are included with both versions. Built to the exact factory specs for a perfect fit, the 3 speed transmission bolts right in to all Savage trucks and is even compatible with our Reverse Module.
Features:
Easy installation: No extra modification required to the gear box
Optimized gear ratio for Big Block engines: Adjustable using a wide variety of clutch bells and spur gears
Steel Clutch Holder Unit: More durable than current aluminum material
Durable Steel Second and Third Gears
Benefits:
10% higher top speed
10% more torque
Stronger gears
More gear shifts for more fun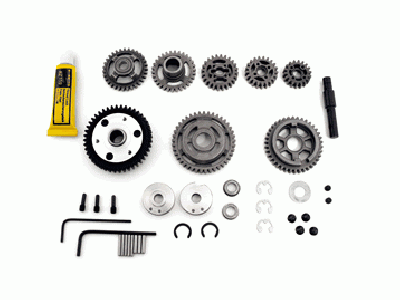 #87218 – 3 Speed Transmission for Savage (Assembled) EAN #4944258872186 $125.00
#87220 – 3 Speed Transmission for Savage EAN #4944258872209 $80.00