Proline Pro-Spec Shocks for short course trucks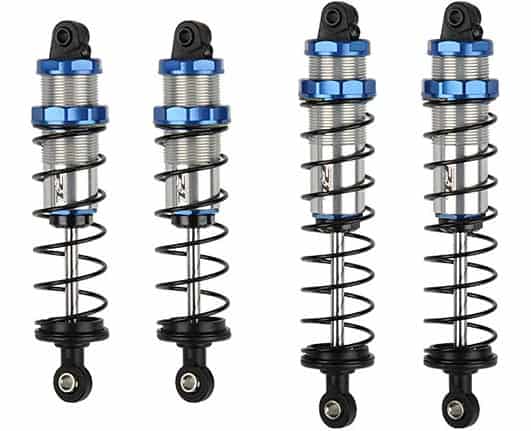 Proline's latest generation of short course truck shock technology has arrived, the Proline Pro Spec shocks! Proline has paid close attention to every detail and refined the shocks to give the best performing and best looking Shocks ever made. The Pro-Spec Shocks are a 12mm Big Bore design with a Single Low Friction X-Ring Seal. The Pistons and Shaft Guides are made from smooth white Delrin for Low Stiction and the 3.5mm thick Shock Shaft is Hard Chrome Coated, just like full scale racing shocks.
The Proline Pro-Spec Shocks feature an easy access Bleeder Cap Screw for consistent shock builds every time. Each pair of Pro-Spec Shocks includes 3 different piston options (1.4, 1.6 & 1.8) and a blank piston for drilling to a custom size. Custom Shock Tightening Tools and optional shock limiters are also included. Pro-Line's new Pro-Spec Shocks come in kit form with build instructions, so you can build the shocks exactly how you want. Optional Pro-Spec Springs are available separately. Upper and lower shock pivot balls are included so you can fit a wider range of vehicles right out of the box.
Part numbers:
6308-00 – Front, Proline Pro-Spec Short Course Shocks
6308-01 – Rear, Proline Pro-Spec Short Course Shocks