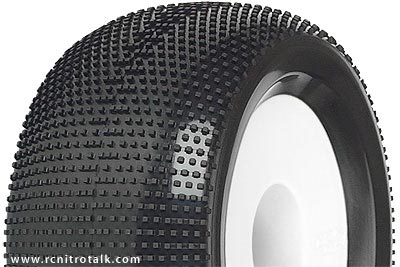 The Proline Hole Shot MTR was developed after numerous requests for an all-around better handling tire on blue-groove and hard-packed-type tracks. In order to produce the best tire possible under these conditions, a narrower carcass than the MT tire was created along with a small-pin design. The smaller pins are less flexible than the Proline Crime Fighter making it a force to be reckoned with on hard-packed conditions. Additional features such as large inner ribbing reduce tire stretching under acceleration, the outer side pins on the Proline Hole Shot MTR tires are angled for greater corner speed and less rut catching, and inner sidewall ribbing was created to reduce side-to-side flex, thus insuring greater overall tire response and control. When you're looking for an alternative tire for those hard-packed, blue-groove type surfaces, then check out Pro-Line's all-new Hole Shot MTR for standard monster truck wheels.
Hole Shot MTR Features:
Oversized inner ribs for anti tire ballooning under acceleration
Small pin design for use on hard-packed tracks
Inner sidewall ribbing for greater corner speed.
Made from super-soft M2 material
Part #: 1133-00 – Hole Shot MTR Standard Size Tire
MSRP: $31.00/pr.