Jammin Products from Ofna has just introduced two new nitro engines. A .21 (51250) and a .28 (51251) engine. Jammin has paid close attention to the details that are so important for off-road R/C racing. Such as durability, ease of tuning, and driveabilty. Jammin has preformed tweaks to the materials, crank timing, and tolerances all played a part in getting the engine to the high performance edge that Jammin Jay requires. Both .21 and .28 engines deliver excellent bottom end power with great top end run out. Both Jammin engines include Turbo Plug type heads. While the Jammin .21 is tuned for the buggies, testing proved it to be more than capable in the truggy class. The Jammin .28 is all out big block performance but still very easy to drive and gets surprisingly good fuel mileage. Turbo Glow plug included.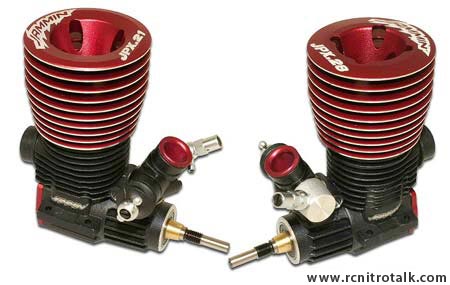 Part #: 51250 – .21 Jammin Nitro Engine
Part #: 51251 – .28 Jammin Nitro Engine
Discuss the new Jammin Pro .21 and .28 engines in our Power Plants forum!