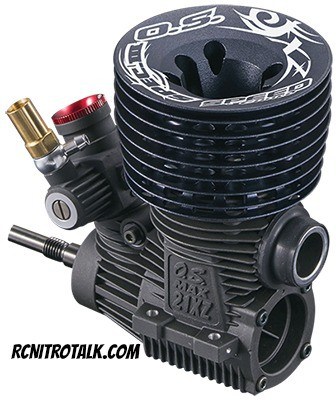 O.S. has just released the Speed 21XZ-B Spec III, the successor to the tried and true O.S. Speed 21XZ-B spec.II. The new O.S. Speed 21XZ-B Spec III features a newly designed crankcase as well as piston and cylinder. The displacement of the Speed 21XZ-B Spec III is 3.49cc. In addition a 3-port exhaust allows for effective air flow after combustion.
21XZ-B Spec III Features
Long stroke engine provides more torque
Enhanced low-to middle-range torque provides a great advantage on tracks that require lots of power
The newly developed cylinder liner features 3 scavenger ports and 3 exhaust ports, and works with the crankcase to deliver more power with less fuel consumption
The drop-in type outer head is now lighter, with a lower CG
Silicon-potted, DLC-coated crankshaft with pressed-in tungsten weights
Easy-to-tune 21J carburetor with 6.5 mm restrictor
21XZ-B Spec III Specs
Displacement: 0.213 cu in (3.49 cc)
Bore: 0.641 in (16.27 mm)
Stroke: 0.661 in (16.80 mm)
Practical rpm: 4,000-42,000
Power Output: 2.61 hp/2.65 ps @ 34,000 rpm
Weight: 12.45 oz (353 g)
Includes: Turbo P-3 plug
Part #: OSMG2060 – OS Engines 21XZ-B Spec III
MSRP: $499
Discuss the new O.S. Engine Speed 21XZ-B Spec III nitro engine in our Engines forum or find more O.S. Engine news here.