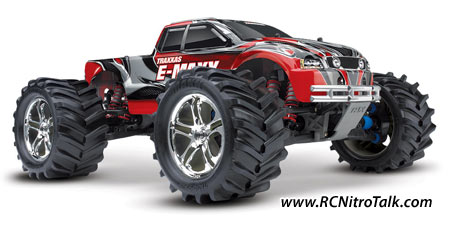 The new Traxxas E-Maxx has been designed to be the best electric monster truck available. With it's high torque 16.8 volt EVX-2 dual motor setup, improvements to the suspension, chassis, drive train, and electronics puts the E-Maxx at the top of it's class.
The new Traxxas Emaxx is equipped with Traxxas Revo sealed pivot ball suspension, dual servo steering and an all new transmission. In fact the new Traxxas E-maxx transmission has been designed to withstand nearly two and half times MORE torque then the original E-Maxx. The wider gears, steel components, and a Revo-spec torque control slipper makes the new Traxxas E-Maxx a perfect candidate for a powerful brushless motor system.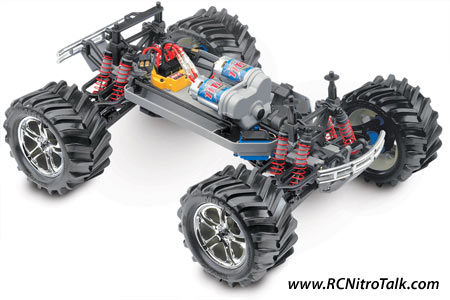 The chassis design on the new Traxxas Emaxx has given the wheelbase an increase of 30mm. The battery position is now lower and slightly angled in towads the center of the truck also increasing stability. The Traxxas E-maxx #3905 comes fully-assembled and Ready-To-Run with the Traxxas TQ radio system installed and adjusted, EVX-2 power system, a painted and decaled body, pre-glued tires, and detailed instructions.
New items found on the Traxxas E-maxx 3905
Weather-sealed electronics
Waterproof servos
4-Channel micro receiver
All-new single speed transmission (2-Speed optional)
Revo-Spec sealed pivot ball suspension
Revo-Spec sealed differentials
Revo-Spec sealed outer and center driveshafts
All-new, low-CG chassis design
Stronger chassis braces
New transmission skid plate
Scaleable battery compartments
Snap-lock battery hold downs
Dual-servo steering system
Integrated servo saver
Hex hardware throughout
3.8″ mirror chrome twin-spoke wheels
3.8″ Maxx® chevron tires
Part #: 3905
MSRP: $369.99
Come discuss the new Traxxas E-Maxx electric monster truck in our Traxxas T/E-Maxx forum.