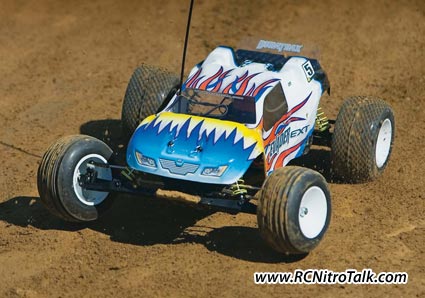 DuraTrax has just released it's new DuraTrax Evader EXT Stadium Truck, the DuraTrax Evader EXT has everything a new off-roader is looking for – completely pre-assembled, easy to handle and very affordable. The DuraTrax Evader EXT is almost bulletproof so you can take on all types of terrain instead of taking your truck in for repairs. If you do manage to break a Stress-Tech part during the first year, DuraTrax will replace it!
DuraTrax also offers a large range of aluminum and graphite hop-up parts allowing you to customize your new DuraTrax Evader EXT stadium Truck anyway you like! The DuraTrax Evader EXT includes a 2-channel Tactic radio with a TRX200 receiver and TSX200 servo, a Photon Speed 2 motor and a Sprint 2 electronic speed control with reverse. Just add batteries and you're ready to take on the track!
DuraTrax Evader EXT Features
Oil filled shocks with soft springs for better handling on rugged terrain.
Adjustable suspension with extra mounting positions for shocks.
Adjustable camber and front toe-in.
Race-inspired, low center of gravity chassis with countersunk screws.
Pre-Mounted and glued tires.
Steel axles and drive shafts hardened for a rock-solid drivetrain.
DuraTrax Evader EXT Specs
Length: 16.1 in (409 mm)
Width: 12.9 in (327 mm)
Height: 6.6 in (168 mm)
Weight: 3.6 lb (1.63 kg)
Requires: 7.2 or 8.4V NiCd or NiMH battery, charge
Talk about the DuraTrax Evader EXT in our Stadium Truck forum.