New REVO Hop Up Parts from Racers Edge!
RCTalk is supported by our readers. When you purchase through links on our site, we may earn an affiliate commission. Learn more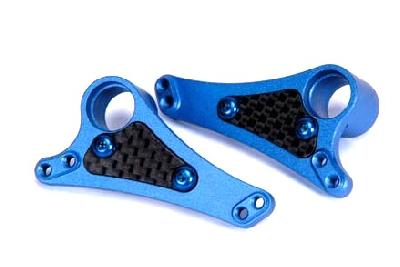 Racers Edge has just release New machined Aluminum REVO Hop Up parts. Including Aluminum Clamping Wheel Hubs, Aluminum Wheel Spinners made to fit the REVO wheels and Aluminum front and rear Rocker Arms that are stiffened with Carbon Fiber! This will provide the ultimate in strength, weight and stiffness ratio! For the Ultimate in performance parts ask your local Hobby Shop for Racers Edge products!
Part # and Description:
RCEK1801B – REVO ALUMINUM CLAMPING WHEEL HUB BLUE (4)
RCEK1801S – REVO ALUMINUM CLAMPING WHEEL HUB SILVER (4)
RCEK1802 – REVO ALUMINUM 5 SPOKE SPINNERS (2)
RCEK1803B – REVO FRONT ALUMINUM/CARBON ROCKER ARM BLUE (2)
RCEK1803S – REVO FRONT ALUMINUM/CARBON ROCKER ARM SILVER (2)
RCEK1804B – REVO REAR ALUMINUM/CARBON ROCKER ARM BLUE (2)
RCEK1804S – REVO REAR ALUMINUM/CARBON ROCKER ARM SILVER (2)