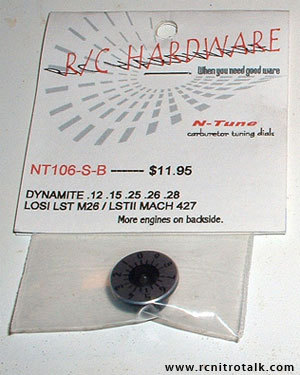 Ever walk through a store and see some little gadget on the shelf and think to yourself "DUH! Why didn't I think of that"? Something so simple but so useful that it seems amazing that it took this long for someone to actually make it? Well that's the first thing that went through my mind when I saw the N-tune by RC Hardware.
How many times have you read tuning advice that would suggest richening or leaning your high-speed needle by 1/8 turn or better yet "1 hour"? Sometimes it takes practice to really get the hang of what that means. And how many times have you been adjusting your carb and realized that it was running better at a previous setting? If only you could remember what that setting was. With the N-Tune, it makes adjusting your needle as easy as setting your watch. And returning to previous settings is a snap.
The N-Tune comes simply packaged in a small plastic bag with hanger card. It's neat and compact and all the instructions are printed on the card. It's so easy to use that no lengthy instructions are needed. At first, I was convinced the device was plastic. But a little poking shows it to be and extremely light but durable black anodized aluminum. The N-Tune is secured to the high speed needle housing using a 3mm hex setscrew that holds it firmly in place. The face of the N-Tune has numbers from 0 to 9 arranged in counter-clockwise order around it. I noticed a few very nice touches. First, the numbers are actually engraved into the aluminum. So if the silver accent paint wears off, the numbers are still easily visible. Second, the numbers are arranged backwards. Think of it like this. To richen your setting, you need "more" fuel. So you increase the setting number. That will turn your HSN counter-clockwise which will richen the mix. Leaning works just as easily. Simple and intuitive. Exactly the way it should be.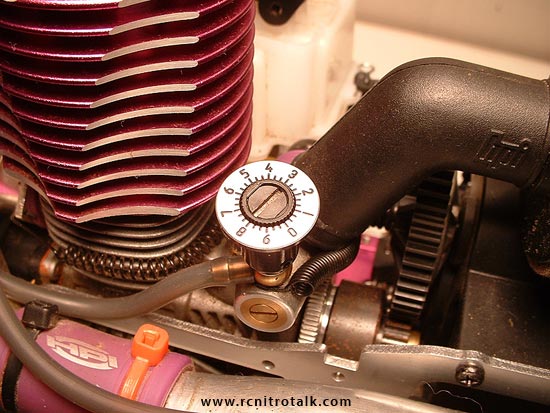 For this review, I am using an HPI K4.6 and a Sportwerks .26 for comparison. One quirk about the 4.6 is its large, plastic HSN cap. To install the N-Tune, you first must completely remove the HSN. Once it's removed, simply slide the N-Tune over the housing and secure the setscrew. On the SW .26, the HSN is enclosed in its housing so it's simply a matter of sliding the N-Tune on and securing in place. As with all other metal-to-metal threads, a little light thread lock will help keep it in place. However, use the thread lock sparingly as you will most likely be adjusting the orientation of the N-Tune from time to time. Then reinstall the HSN. Because the HSN had to be removed, I returned my carb settings to factory settings to start the tuning process. One simple step that's necessary is to mark one spot on your HSN as a reference point. This can be done by scratching a shiny spot in the metal, or grinding a notch or simply painting a spot with paint or nail polish. Then proceed to run and tune your engine for stable performance. One you have the HSN set to your liking, simply align the N-Tune so that the mark on the needle is at approximately 3 on the dial. Once you have it set up, adjustments are as easy as bigger or smaller. And tracking your adjustments is just a matter of keeping simple notes.
The N-Tune comes in 2 flavors: The Sport version and the Race version. The Sport version has a dial which consists of the numbers 0 through 9 in counter-clockwise order. That allows you to track your settings by simply logging the setting number. The Race version has a 0 mark which is bordered by settings of ±5. This allows you to set your favorite race setting to 0 and then richen (to the + side) or lean (to the – side) as needed for conditions. This will allow you to make very detailed notes about most efficient settings for very specific race conditions.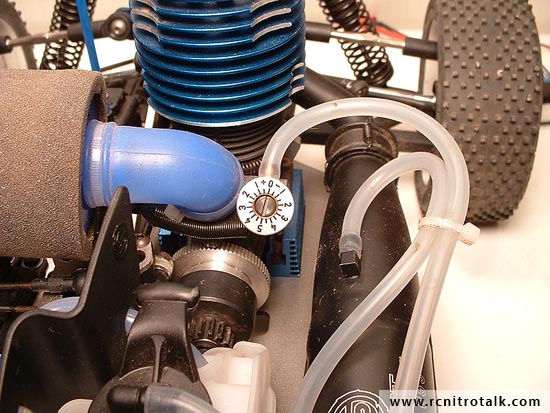 The N-Tune is also available in many different sizes for many different engines. After reading the list, it seems most common engines are included. And if your engine isn't on the list, they supply diameter and length specs on their models for reference. It's as easy as finding the one that matches your carb.
All in all the N-Tune is so simple that I'm amazed it took this long for someone to make it. Whether you bash or race the N-Tune makes setting your HSN as simple as setting your watch. For the few dollars it will cost you, it will certainly make your hobby life that much easier.
Manufacturer: RC Hardware
Part #: NT100
Price: $9.95
Talk about the N-Tune tuning dials review in our Nitro RC Forum! Special thanks goes out to Mark over at R/C Hardware for giving us the opportunity to do the review.