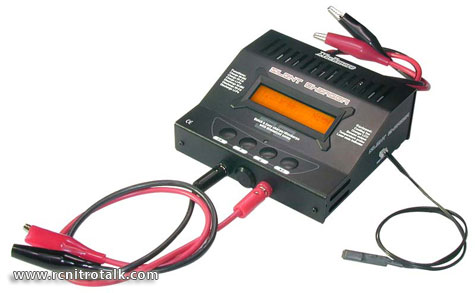 The Much-More Silent Charger (referred to as the SC) is a state of the art microprocessor based
charger/discharger system for rechargeable batteries for R/C use. With the technology developed by Much-Mores team of research and development, factory team drivers and world champions, Much-more introduces the next generation of charger for all R/C drivers. The Much-More Silent Charger is switching type and can fully charge Ni-MH and Ni-Cd 1 to 14 cells at a digitally pre-settable amperage up to a maximum 6.0amps using peak detection and temperature limit methods. The SC can charge Litheum battery up to 5 cells.
Much-More Silent Charger Features
Orange back lit LCD with 16×2 characters
An IC controlled cooling fan
Multi protection system
3-3 charge discharge memories
Minimized setup procedure
Automatic saved charge-discharge profile
Capability of charging high voltage batteries by new switching type charge
Temperature probe(Thermo sensor)
Much-More Silent Charger Specs
Dimensions: 124x114x47mm
Weight: 520g
Number of cells(Ni-MH/Ni-Cd): 1~14cells ( 1.2~16.8V)
Number of cells(Li-Po): 1~5cells (3.7/7.4/11.1/14.8/18.5V)
Max charge current: 0.1~ 6A
Max discharge current: 0.1~ 6A
Discharge cut off voltage: Automatically selected
Input voltage: 9~15V
Charging mode: Ni-MH, Ni-Cd, Li-Po
Discharging mode: Ni-MH, Ni-Cd, Li-Po
Trickle charge rate(after charge): 0.1A(Ni-Cd mode)
Voltage threshold/Delta peak: 3mV/cell(Ni-MH), 6mV/cell(Ni-Cd)
Max charge watts: 120watts
Max dishcharge watts: 40watts
Temperature probe: Magnetic sensor(35~65deg.C)
Keys: 4
Cooling: IC controlled single fan
Discuss the new Much-More Silent Charger in our Tool Talk forum.