RCTalk is supported by our readers. When you purchase through links on our site, we may earn an affiliate commission. Learn more
Now available for the National Champion HPI Pro 4 touring car is a complete range of racing springs, now in one convenient package.
The Pro 4 Spring Set contains 7 pairs of springs specifically tuned by HPI Team Drivers for the Pro 4, ranging from 273 gf/mm to 400 gf/mm, and color coded for easy identification. Racers need a wide range of tuning options to perfectly match the suspension to track conditions for faster lap times, this will be a popular spring set for Pro 4 owners.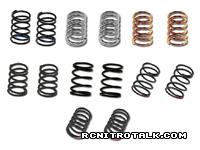 Package contains:
#6542 – 14x25x1.4mm 6 coils (blue / 2pcs) 273 gf/mm
#6543 – 14x25x1.5mm 6.5 coils (silver / 2pcs)(Kit Part) 302 gf/mm
#6544 – 14x25x1.5mm 6 coils (gold / 2pcs)(Kit Part) 340 gf/mm
#6545 – 14x25x1.4mm 5.75 coils (white / 2pcs) 363 gf/mm
#6546 – 14x25x1.4mm 5.5 coils (yellow / 2pcs) 388 gf/mm
#6547 – 14x25x1.5mm 5.25 coils (red / 2pcs) 400 gf/mm
#6548 – 14x25x1.5mm 6.25 coils (pink / 2pcs) 320 gf/mm
#75175 – Pro 4 Spring Set (ID14mmxL25mm/7 pairs)