LRP SXX Competition V.2 Brushless Speed Control
RCTalk is supported by our readers. When you purchase through links on our site, we may earn an affiliate commission. Learn more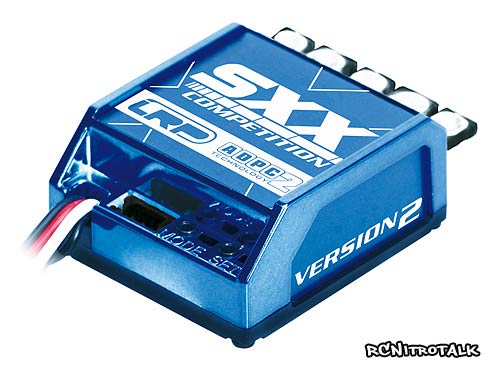 The new LRP SXX Competition V.2 Brushless Speed Control is perfect for 1/12th scale on-road and 2WD off-road racing. The high-tech features of the LRP SXX competition speed control and matched components make the new generation SXX Competition one of the highest-performing speed controls on the market today.
The individual and precise settings of "Feel" and "Boost" offer maximum flexibility and the highest power in every race situation. The revolutionary new Twin BEC is independent from the battery input voltage and provides a constant 6V/3A output with 3-7.4V batteries.
To keep your speed control up to date, USB software updates will be available on http://www.lrp.cc.
LRP SXX Competition V.2 Brushless Speed Control Features
Dual ADPC max Software: Independent adjustment
of "Feel" and "Boost" for maximum flexibility.
USB Software Updateability: Benefit from all the latest performance improvements and updates available.
Twin BEC: Constant 6V/3A output with 3.0V to 7.4V batteries. No receiver battery with 1S LiPo needed.
Revolutionary Internal Temp Check System 3: Allows you to read out the maximum internal temperature for the speed control and motor.
AutoCell System 2 (3.0V to 7.4V input voltage): Fully adjustable cutoff system for all types of cells.
C3 Technology: Revolutionary Copper Core Cooling technology for lowest running temperature.
Part #: LRP80905
MSRP: $299.99