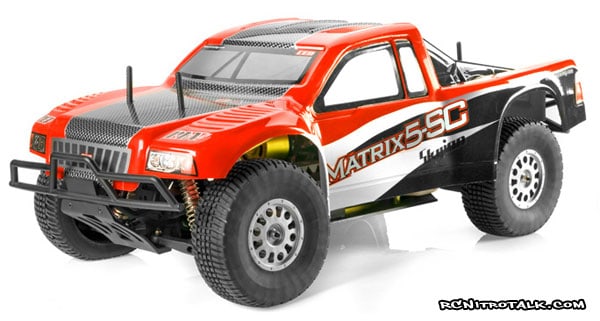 The CEN Matrix5-SC, built on the popular CEN Matrix5-B buggy chassis, is CEN's newest 1/5th scale gas powered RC!. Offers full time 4WD and superior performance and handling. The newly developed 1/5th scale cars by CEN Racing are equipped with 4 ultra big bore threaded aluminum oil filled shocks that absorb rough terrain while maintaining balance and control. This 1/5th scale has proven to be one of the largest, most powerful gas powered r/c cars in market!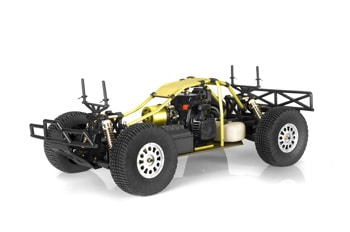 The CEN Matrix5-SC is fully equipped with precision ball bearings for an ultra smooth drive-train which is powered by a powerful 30cc 2 stroke gasoline engine that uses ordinary gasoline with 2 stroke oil mixed in. Stopping this massive vehicle is easy with the dual disc high temp breaking system.
CEN Racing's Maxtrix5-SC is equipped with a fully adjustable suspension, along with camber and toe in adjustments. It comes fully assembled and Ready To Run including FM Digital electronics. The massive 8 inch wheels and tires are pre-glued and ready to rock. Even body shell comes fully painted and decaled as well!
CEN Matrix5-SC Specs
Length: 750mm (29.5inch)
Height: 330mm (13 inch)
Width: 450mm (17.7 inch)
Wheel Base: 520mm (20.5inch)
Weight: 15kg (33 lbs)
Tire Diameter: 150 x 60
Gear Ratio: 7.68: 1
CEN Matrix5-SC Features
One metal gear including steering servo
CVD flexible bevel shaft
All metal gear front or rear diff
4mm stiffened anodized aluminum T6 chassis
Universal joint cup suspension system
Adjustable with double wishbones
4 step gear reduction system
4 full aluminum oil-pressure shock absorbers
Easy adjustable caster angle: 0 to 6 degrees
Adjustable camber angle and toe-in angle
MSRP: $899.99
Discuss the CEN Matrix5-SC in our Large scale R/C Forum!
httpvh://www.youtube.com/watch?v=VE1F4vDSjMI&