LRP Pulsar Touch battery charger
RCTalk is supported by our readers. When you purchase through links on our site, we may earn an affiliate commission. Learn more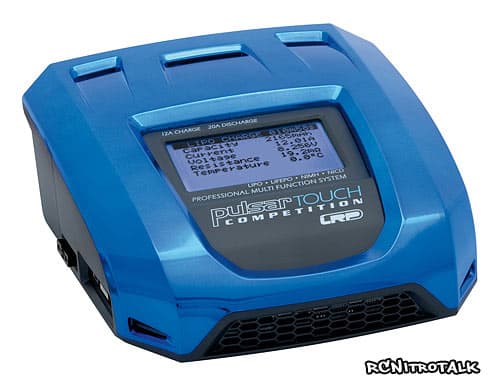 The LRP Pulsar line of chargers is the first choice of many of the world's best R/C drivers. LRP being one to never think that the best is good enough, is proud to announce the next generation in this successful line: the Pulsar Touch Competition.
The Pulsar Touch Competition shines with its revolutionary features including a special touch screen with graphic user interface and high-quality components. An integrated high-performance LiPo/LiFePo balancer detects differences in the cells and automatically starts balancing, resulting in longer lifetime and even better performance of the cells.
LRP Pulsar Touch Features
Touch-screen graphics display, blue backlit.
Integrated LiPo/LiFePo balancer.
Brushless motor sensor port for sensor check and RPM measurement.
Receiver simulator port for function check of speed controls and servos.
Fully Adjustable. Intuitive program structure with graphical user interface, allows precise adjustment of all parameters.
User Profile Memory: 5 factory pre-set profiles which can be customized, re-named and saved in memory.
USB connection (wire included): for data download to PC and firmware update.
Microprocessor controlled: Fully adjustable for perfect operation, maximum performance and highest safety.
Multi Protection System: protection against output reverse polarity, short circuit, input voltage error and over charge.
Voltage calibration for maximum accuracy.
DC Input 11-15V.
Part #: LRP41555 – LRP Pulsar Touch battery charger
MSRP: $399.99