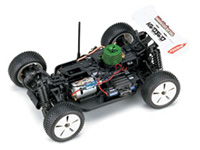 The latest MP777 evolution of the 6 time consecutive 1/8 Buggy World Championship winning Inferno, is now making tracks with a 1/16 size electric buggy.

Many of the parts and structures are simply scaled down so the geometry and setting points that make the Inferno so dominant are shared. It even features a dummy engine head and muffler cutter. Showing the quality and performance of the proud Inferno name gives a level of satisfaction seemingly far greater than its size.

Full of world championship winning race technology, this is the best high-performance start of a new category. And, its completely factory-assembled! Even the body is painted so simply load the batteries and go. Continual development of optional upgrades will keep you challenging yourself to that next level.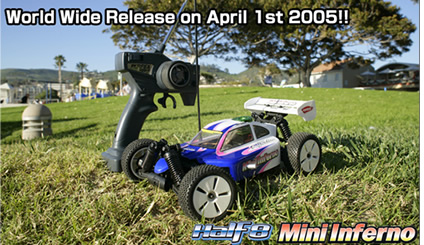 – Readyset Contents –
*Fully assembled chassis
*Body – painted with decals applied
*KT-3 Transmitter Required for operation (Not included)
AA-sized batteries x 6 (car) and AA-sized batteries x 8 (transmitter) are sold separately.