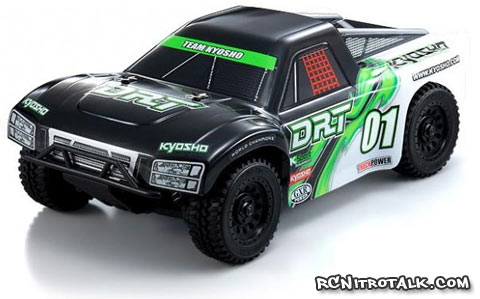 Add another desert racing truck to the mix with Kyosho's new DRT (Desert Racing Truck)! The Kyosho DRT features an advanced chassis design that promises real racing performance while maintaining superior handling. Kyosho DRT gets it's power from a .18 nitro engine that will give you plenty of power that pushes the boundaries of common sense for a 1/10th class rc, you can turn local open space into your own private desert, short course, or road race circuit.
To keep the Kyosho DRT running as long as possible Kyosho has equipped the DRT with a large 105cc fuel tank which will allow the Kyosho DRT runtimes of up to ten minutes. The Kyosho DRT is also fully interchangeable with the front, rear, left and right suspension arms, knuckles, and shock stays. The Kyosho DRT is even 80% compatible with Kyosho DST/DBX parts!
The dirt proof radio box helps to keep the receiver and batteries safe from the outside elements, while the fully digital servos allow for superior response on the race course.
The Kyosho DRT also features drive shafts that run through the center of the chassis to give you better lower center of gravity while the 4WD ensures maximum handling and power to all the wheels. To top it off the Kyosho DRT is almost completely factory assembled. Trained technicians build the car from the ground up, so it's virtually ready to go right out of the box – even the body is painted, expertly detailed and the decals are installed exactly as you see it on box. Simply add fuel and some alkaline batteries needed to power the transmitter, receiver and glow igniter and you're ready for action.
Available: March 2009
Part #: 31082B – Kyosho Desert Racing Truck
Discuss the Kyosho Desert Racing Truck in our Stadium and CORR Trucks forum!