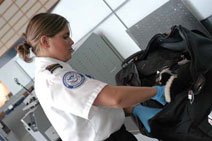 The Transportation Security Administration announced on Oct. 1, 2007 that they will be increasing security at airports on remote controlled cars. One thing that's prompted this announcement was due to a posting this summer of a YouTube video explaining in Arabic how to detonate a bomb with a remote-controlled car. The video which has since been removed was narrated by a University of South Florida graduate student who was arrested in August on charges of carrying four pipe bombs in his car trunk.
This notice from the TSA is to explain why passengers may notice additional security measures related to remote control devices. In view of the period of strategic warning discussed in the National Intelligence Estimate on Homeland Security released in July, TSA is carefully monitoring information developed in the law enforcement and intelligence communities related to methods of possible attack.
While not associated with a specific threat at this time, TSA is aware that remote control toys can be used to initiate devices used in terrorist attacks. Transportation Security Officers have trained on this possibility and travelers may encounter additional screening when bringing remote control devices in carry-on baggage.
If you plan on traveling with your RC stuff expect longer delays at the security check point or consider shipping your rc gear via UPS or FedEx.