RCTalk is supported by our readers. When you purchase through links on our site, we may earn an affiliate commission. Learn more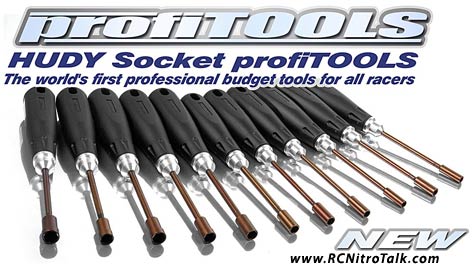 The new HUDY profiTOOLS are based on highly-successful HUDY Professional Tools used by RC factory teams and world champions, and are available in most popular sizes and types. Each HUDY profiTOOLS tool has a special, CAD-designed tip made of world-renowned HUDY Spring Steel to very precisely fit the corresponding fastener, allowing unmatched torque and long life. The HUDY profiTOOLS are lightweight with comfortable molded handles and machined hubs are designed to allow easy tip exchange.
HUDY Socket profiTOOLS Features:
Most affordable professional tools with unmatched value
Special composite handle with perfect hand grip design for unsurpassed grip, torsion, and comfort.
Three different handle sizes for maximum torque.
Aluminum machined hubs for easy tip exchange.
Tips handmade from world-renowned top-secret HUDY Spring Steel.
HUDY profiTOOLS are available in all sizes and various lengths, types, and measurements:
Imperial and metric hex and ball-hex drivers.
Slotted and Phillips screwdrivers.
Imperial and metric socket drivers.
Hudy profiTOOLS Part Numbers:
170049 profiTOOL Socket Driver 4.5 mm
170058 profiTOOL Socket Driver 5.0 mm
170059 profiTOOL Socket Driver 5.5 mm
170069 profiTOOL Socket Driver 6.0 mm
170079 profiTOOL Socket Driver 7.0 mm
170089 profiTOOL Socket Driver 8.0 mm
170109 profiTOOL Socket Driver 1/4″ (6.35 mm)
170309 profiTOOL Socket Driver 3/8″ (9.525 mm)
170319 profiTOOL Socket Driver 3/16″ (4.763 mm)
170519 profiTOOL Socket Driver 5/16″ (7.938 mm)
171139 profiTOOL Socket Driver 11/32″ (8.731 mm)
Come discuss the new Hudy ProfiTOOLs in our RC Tool Talk forum!