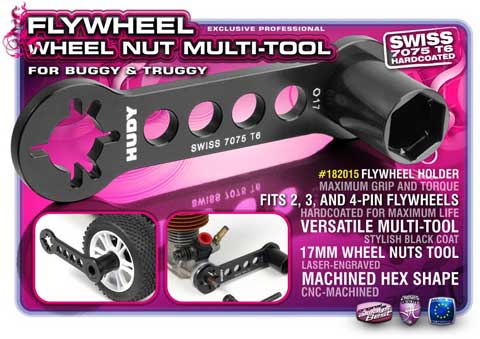 HUDY just released a new flywheel / wheel nut multi-tool for 1/8th scale off road buggy and truggy. Machined from T6 7075 aluminum and hard coated for long life. It's lightweight design ensures the HUDY multi-tool is still ergonomic for a comfortable grip.
The HUDY multi-tool flywheel holder works with all modern RC nitro car flywheels with 2, 3, and 4-pin designs. The HUDY Flywheel Tool enables you to loosen or tighten the flywheel nut very comfortably and easily. The HUDY multi-tool flywheel tool is used for off-road flywheels. To tighten or loosen the flywheel nut simply slide the tool onto the flywheel pins using the correct slots (depending on the type of flywheel used) and hold it. The tool enables you to strongly hold the flywheel and using the #107581 HUDY clutch nut tool you can easily tighten or loosen the flywheel nut.
The other side of the tool was specially developed to work on the 1/8 Buggy and Truggy 17mm wheel nuts in dirty and abusive conditions. No matter how tightly the wheel nuts are locked, the HUDY Wheel Nut Tool will allow you to very easily and comfortably release the wheel nut. The special design gives you superior torque to tighten the wheel nuts (helping to ensure no more lost wheels) as well as loosening them.
HUDY flywheel / wheel nut multi-tool features
Versatile multi-tool for off-road buggies
Flywheel holder holds 2, 3, and 4-pin flywheels
Easy & comfortable loosening/tightening of flywheel nut
Tool for 17mm wheel nuts
Machined hex shape for perfect fit on 17mm hex wheel nuts
CNC-machined from Swiss 7075 T6 aluminum
Hardcoated for maximum life
Laser-engraved HUDY logo and side identification
Special design for maximum grip and torque
Part #: 182015