HPI Racing has released their new RTR (Ready-To-Run) Nitro RS4 3 drift 1/10th scale car. The RTR Nitro RS4 3 Drift has many of the features found on the popular HPI RTR Nitro RS4 3 Evo+, making it a great car for parking lot drifters. The tough 4WD shaft drive system keeps the drivetrain running smoothly even in parking lots that aren't completely free of rocks. The enclosed receiver/battery box keeps the electronics protected from the elements and makes clean-up a snap. A stiff purple anodized aluminum 2.5mm chassis prevents flex for consistent handling and extra durability.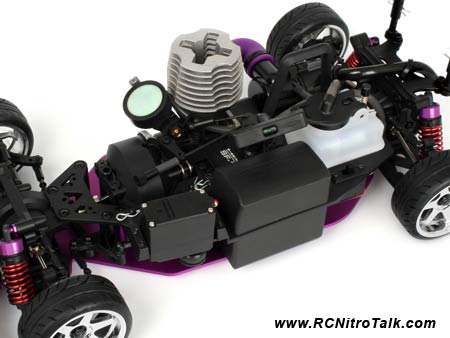 The HPI RTR Nitro RS4 3 Drift is powered from the potent G3.0 nitro engine (.18 Cu. In.), with excess power for tire smoking drift action. A large diameter tube header and a new rear exhaust muffler system routes the engine smoke out the back of the HPI RTR Nitro RS4 3 Drift for scale realism and clean operation. A single speed transmission delivers the consistent throttle response needed for drifting. And, the G3.0 is equipped with a pullstarter for quick and easy starting.
Choose the Nissan Silvia S15 body or the muscular Toyota Soarer to suit your style, both come pre-painted, pre-trimmed, pre-applied decals, and both come with chrome Volk TE-37 wheels and drift tires for authentic JDM drift looks.
Part #: 10071 – HPI RTR Nitro RS4 3 Drift Nissan Silvia body
Part #: 10072 – HPI RTR Nitro RS4 3 Drift Toyota Soarer body
MSRP: $559.00
Discuss the new HPI RTR Nitro RS4 3 Drift in our On-Road Touring forum.