The HPI Mini Recon is the perfect 1/18th scale fun package. Made from extremely tough composite material the HPI Mini Recon is nearly indestructible. The HPI Mini Recon features a powerful 370 size motor that accelerates the Mini Recon to incredible top speeds. The Mini Recon comes as a true RTR package with absolutely everything you need to get going, including: HPI TF-40 radio set, 7.2V NiMh battery, charger and even AA batteries for the transmitter!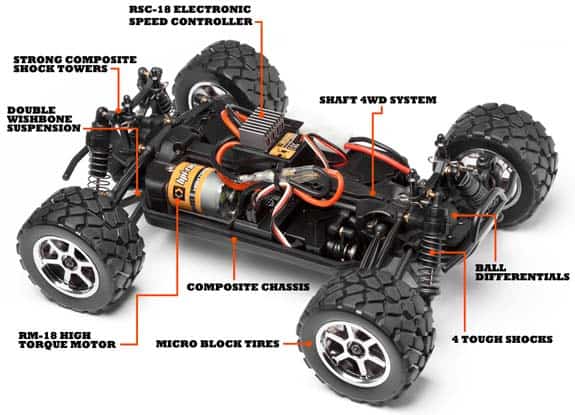 HPI Mini Recon Features
HPI tf-40 2.4ghz radio set for trouble free control.
Heavy-duty 4wd shaft drive system to handle the high torque rm-18 motor power.
RSC-18 electronic speed controller
RM-18 high torque motor
Super smooth ball differentials provide reliable power transfer.
Fully independent double wishbone suspension.
4 factory fitted long-stroke oil-filled shock absorbers soak up all terrain.
Twin point steering with integrated servo saver.
Covered battery for extra protection.
Full ball bearings
Strong molded composite tub chassis, shock towers and suspension parts make the car nearly indestructible.
Pre-glued high grip "micro block" tires on chrome 6 spoke rims.
Pre-finished and trimmed bodyshell, fully finished from factory with applied decals.
Mini Recon Specifications
CHASSIS LENGTH: 232mm
WIDTH: 174mm
HEIGHT: 108mm
TRACK: 145mm
WHEELBASE: 160mm
DRIVE SYSTEM: Shaft 4WD
TIRES: Micro Block
Part #: 105502 – HPI Mini Recon RTR 1/18th truck
MSRP: 179.00
Discuss the HPI Mini Recon RTR 1/18th truck in our Mini and Micro scale RC forum.