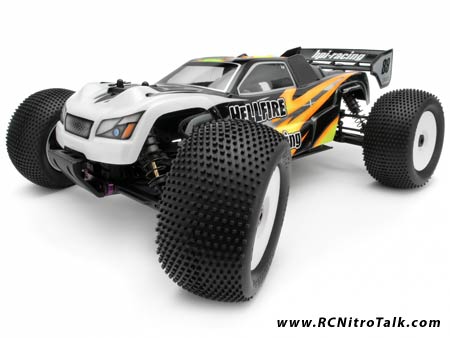 The new HPI Hellfire SS truggy kit with the K4.6 Engine is the highest spec vehicle HPI Racing has ever made. The HPI Hellfire SS comes with heavy duty option parts as standard equipment and now also includes the HPI Racing K4.6 engine that packs a load of torque and super reliability! This is the best of all worlds with all the bells and whistles; the best parts, best chassis and a great engine – all in one package!
The quality of all parts and the material used to make the new HPI Hellfire SS will just make building and running the HPI Hellfire SS a fantastic experience, and the HPI K4.6 engine with it's great durability will further your truggy experience. Simply put, Hellfire SS with the K4.6 engine is fast, fun, high spec, and even price-conscious!
For more information about the HPI Hellfire visit NitroTalk.com
Come discuss the new HPI Hellfire SS truggy with the K4.6 engine in our RC Truggies forum!