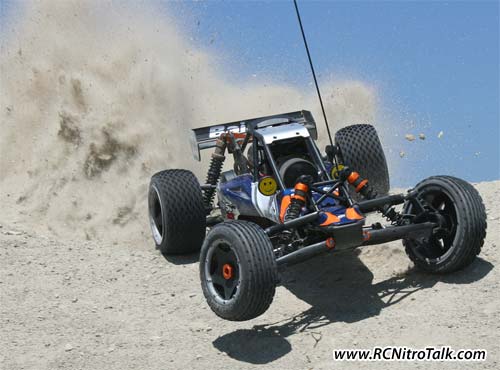 When the HPI Savage came out customers asked for a kit version, and HPI gave us the HPI Savage SS. Well the HPI Baja 5b is no different, almost as soon as the HPI Baja 5b came out customers asked for a kit version and once again HPI Racing is delivering – with the HPI Baja 5b SS!
The new HPI Baja 5b SS (Super Sport) comes completely unassembled and unpainted body. The HPI Baja 5b SS like other HPI SS models comes with a nice list of upgraded hop-up parts. Upgraded parts such as a larger 26cc engine compared to the standard 23cc found on the RTR version. HPI has also upgraded the RTR plastic differential case with a rigid aluminum case. HPI has also improve the handling of the HPI Baja 5b SS with the addition of front and rear anti-sway bars. The HPI Baja SS shocks are also feature thicker shafts for better jumping.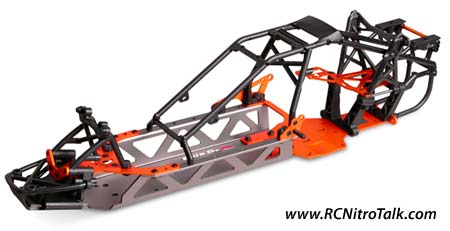 The HPI Baja 5b SS also has some color changes, the RTR chassis comes in a purple anodized chassis, the new Baja SS features a gunmetal anodized chassis with orange aluminum accent pieces giving the HPI Baja 5b SS one mean look.
As with most R/C Kits, the radio gear has been stripped from the box and the same goes with the HPI baja SS with one exception. HPI has included a newly designed high output metal gear steering servo.
HPI Baja 5b Features
Aluminum tuned pipe – as well as a stock muffler for quieter operation
Heavy duty rear dogbones
Aluminum alloy diff case
HPI 8000 rpm clutch
HPI Baja 5b SS Specifications
Overall Length: 32 in (817mm)
Height: 10 in (255mm)
Width: Front 18 in (460mm) / Rear 19 in (480mm)
Tire Track: Front 15.5 in (395mm) / Rear 15.75 in (400mm)
Wheelbase: 22.5 in (570mm)
Ride height: 3 in (76mm)
Weight: 21.3lb (with radio)
Camber: Adjustable front with shims rear with screw
Front caster: Adjustable with shim 22 / 25.5* / 29 degrees (* stock)
Toe-in: Adjustable front with tie rod rear with shims 2 / 3* / 4 degree each side (* stock)
Aircraft aluminum 6061 T6 monocoque chassis
Double wishbone suspension with adjustable roll center F/R
Twin plate ventilated disk brake
Drive system: HD metal gears with sealed gear box (8.382:1 gear ratio)
Diff: Viscous Torque control with 4 pinion gears sealed diff case with silicone oil
VVC/HD shock absorbers and fully adjustable coil over springs
Wheel type: 3 pcs with high impact nylon material
Part #: 10610 – HPI Baja 5b SS Kit
MSRP: $1,659.00
Talk about the HPI Baja 5b SS in our Large Scale R/C forum.