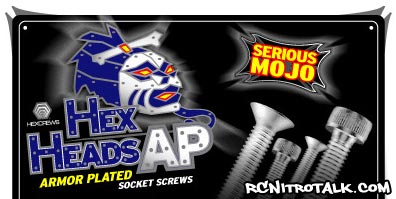 The new "Armor Plated" screws from Hex Heads claim to be the toughest fastener on the planet!
A big problem with completely corrosion resistant screws, such as stainless steel screws is that in order to provide excellent corrosion resistances, chromium must be added to the material mix that makes up the screw. This trick of adding chromium is that it must be added with other elements while still meeting U.S. standards when manufacturing these fasteners.
Hex Heads on the other hand has used Alloy-steel, which you can heat treat, is the strongest material you can build fasteners with! Based on facts using a M3x0.5x10mm fastener, Hex Heads AP screws are 30% stronger than titanium and 30% harder than stainless steel – they are also twice as corrosion resistant!
Hex Heads Fact Sheet:
177,00 psi of tensile strength minimum – huge holding power.
Heat treated to a Rockwell Hardness of 43 – long life and durability.
Machined for superior grip – reduced-loosening threads.
Thread rolled for precision – consistent fastening quality.
30% Stronger than titanium.
30% Harder than stainless steel.
*Fact sheet based on M3x0.5x10mm alloy-steel fastener.
If you're looking for the ultimate and the absolute best screws, then Hex Heads Armor Plated screws are what you're looking for!
Discuss the new Hex Heads AP screws in the RC Tool Talk forum!