Dynamite Multi Hex Wrench Set
RCTalk is supported by our readers. When you purchase through links on our site, we may earn an affiliate commission. Learn more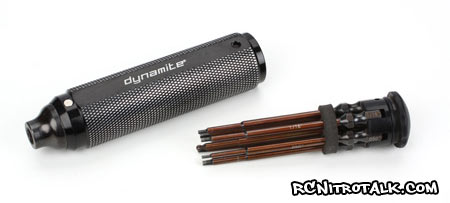 The new Multi-hex wrench set from Dynamite gives you one tool for all of your hex driving needs. The Dynamite multi hex wrench set comes with the 7 most popular hex sizes with 1/4″ drive tips that securely store within the handle of compact storage.
In addition, the 1/4″ drive ends will lock into most electric handheld screwdriver.
Dynamite Multi Hex Wrench Set Features
Aluminum anodized handle
Hex tips feature a 1/4″ drive end
Laser etched tips
Includes 7 different hex sizes
Tips are made from durable, high-grade heat treated steel
Tips securely store within handle
Part #: DYN2950 – Dynamite Multi Hex Wrench Set
MSRP: $40.49
Discuss the new Dynamite hex wrench set in our RC Tool Talk forum.