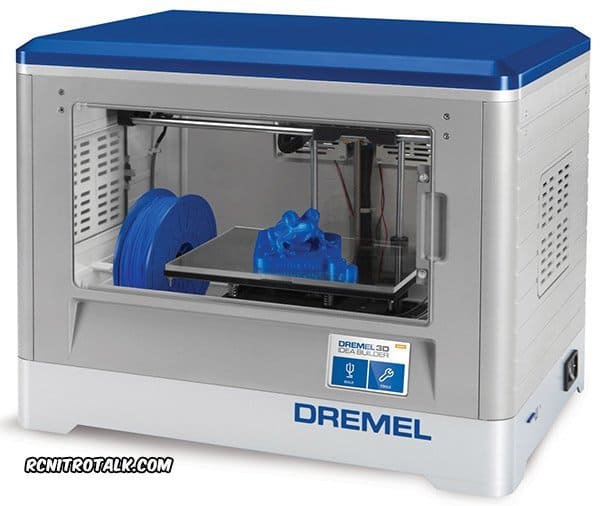 Many of us use Dremel rotary tools while building a new RC kit, doing repairs, or building a custom one off RC. Well now Dremel is adding another tool to their product line that will allow us to MAKE our own RC parts, the Dremel Idea Builder 3D Printer!
The Dremel Idea Builder 3D printer features full color touch screen, enclosed work area for reduced noise and printing protection, as well as active cooling to prevent your objects from warping while they are being printed.
Expect the Dremel 3D printer to be released on November 3, 2014. Follow this link for more information and to pre-order the Dremel 3D printer.
Dremel 3D Idea Builder Specs
Extruder: Single extrusion
Extruder temperature: Up to 230°C /397°F
Operating Interface: 3.5″ full color IPS touch screen
Maximum Build Volume: 9″ x 5.9″ x 5.5″
Layer Thickness: 4 mil | 0.004 inches 100 microns | 0.10 mm
SD Card: Up to 32GB in size /3D20 will not work with SD cards larger than 32GB
Internal Storage: 4GB
Dremel 3D20 comes with complimentary software. This application converts your 3D digital files into buildable model files.
One year warranty for non-commercial use
Height: 15.7 inches
Width: 19.1 inches
Depth: 13.2 inches
Weight: 19 pounds 8 oz
Part #: 3D20-01 – Dremel Idea Builder 3D Printer
MSRP: $999
For more details visit the Dremel page here.