Convert your AE SC8, RC8, and RC8T to brushless
RCTalk is supported by our readers. When you purchase through links on our site, we may earn an affiliate commission. Learn more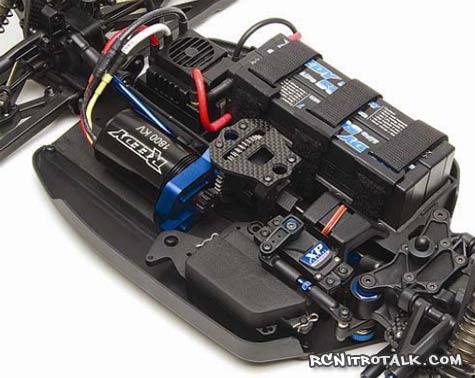 Wish there was an easy way to convert your AE SC8 or AE RC8 from nitro powered into electric brushed or brushless power? Well wish no more, Team Associated has just developed an e-Conversion kit to do just that!
The Associated e-Conversion kit has been thoroughly thought out with a practical design that has been designed to work as an integral part of the chassis. Using the Associated e-Conversion kit you can now enjoy the awesome power and convenience of LiPos in your SC8, RC8 or RC8T has never been easier!
Team Associated e-Conversion kit features:
Rigid one-piece motor mount utilizes standard motor screw mounting pattern
Large speed control mounting area raised off of chassis to allow for easy screw mounting of common speed controllers
Speed control mounting area includes convenient switch-mounting boss
Utilizes 3 hook-and-loop straps to secure LiPo batteries into battery tray
Molded Battery tray supports 7.4-14.8V battery packs with room for foam pads
Accepts two ROAR-approved 1:10 scale size 7.4v LiPo battery packs
New sealed receiver box for proper electronics placement
Receiver, Servo, and battery tray remove from car in one piece for easy maintenance and cleaning
Easy bolt-in chassis installation requires no modifications!
Convenient wire routing keeps critical electronic wires out of drivetrain components and simplifies disassembly
Includes two pinion gears (15T, 16T) and two spur gears (46T & 50T)
Comes with all needed hardware to mount components onto chassis
Motor, ESC, and batteries are not included
RC8 conversion requires RC8e body #89523
Part #: 80930 – AE e-Conversion kit for SC8, RC8 and RC8T
MSRP: $129.99
Discuss the Associated e-Conversion kit in our General RC Electric Talk forum!