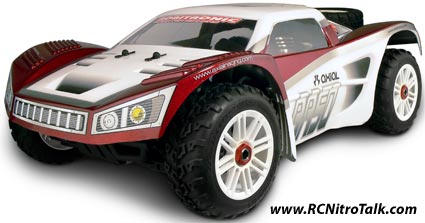 Axial Racing has just created a new 1/8th scale truck that is truly in a class all by itself, the all new Axial Robitronic BR50 1/8th Trophy Truck. The Axial Robitronic BR50 has been made to be durable, easy to drive and maintain. You'll find features like floating gearboxes, sealed center gearbox, a wide range of suspension and tuning options, and of course a powerful 4.6 big block nitro engine on the Axial Robitronic BR50.
Axial BR50 Big Block Nitro Engine
Speaking of which, the 4.6 big block engine found on the Axial Robitronic BR50 features a high-flow dual stage air filter, pull start, huge heat sink head to keep the nitro engine cool, as well as an aluminum tuned pipe!
Axial Robitronic BR50 Driving
The Axial Robitronic BR50 features a 3mm aluminum chassis that has been designed for an ultra low center of gravity while still having the maximum suspension travel. The result is a very easy handling chassis right out of the box. Long oil-filled 14mm piston aluminum shocks with 3.5mm shafts and super strong composite suspension arms let the Axial Robitronic BR50 fly over bumps and jumps. The heavy duty aluminum shock towers found on the Axial BR50 are strong and allow multiple shock positions for further tuning. The aluminum-top deck is ultra low further adding to the low center of gravity which adds to the strength and performance of the Axial Robitronic BR50.
Maintaining the Axial BR50
Maintaining the Axial Robitronic BR50 really can't get any easier, all three differentials can be easily removed just by removing four screws. The 4.6 nitro engine can also be taken out by removing just four screws. The steering and suspension adjustment points on the Axial Robitronic BR50 require the removal of only a few screws each making the Axial BR50 a VERY easy truck to work on.
BR50 Specifications
Wheelbase: 362~368mm
Track: 330mm
Total length: 610mm
Total Width: 330mm
Total Height: 175mm
Fuel tank: 150cc
Axial Robitronic BR50 1/8th Trophy Truck Features
3mm Aluminum Chassis
Aluminum Upper Deck
4WD Shaft-Drive
Powerful 4.6cc Pull Start Engine
Adjustable Suspension
Fully Sealed Bearings
Aluminum Shocks with 3mm shock shaft and 14mm piston
Aluminum Shock Towers
Composite Suspension Arms
Aluminum Tuned Exhaust Pipe
Sealed Receiver Box
Sealed Center Gear Box
Two Stage Air Filter
Exclusive Ultra Low Diff design for lower center of gravity
4 Bevel Gear Differentials
Unique Braking System with Dual Brake Disk
Rubber dampened hinge pin pivot points for better bump absorbsion and increased durability
Thick composite chassis braces front & rear
High-tech Radio System with hi-torque steering servo
Laydown Steering Servo
Robitronic Blade Runner Tires
Strong Composite Spoke Wheels
Super strong 0.060" Body
Fully printed, decaled and trimmed body
Floating front and rear differentials
150cc fuel tank with built in splash guard and drain
Fuel Bottle
Glow Plug Igniter
Cross Wrench
The Axial Robitronic BR50 1/8th Trophy Truck comes Ready-To-Run, all you need is fuel and AA batteries and you are ready to go!
Part #: R39081 – Robitronic BR50 1/8th Trophy Truck RTR
MSRP: $725.00
Come talk about the new Axial Robitronic BR50 1/8th Trophy Truck in our Stadium Truck forum.