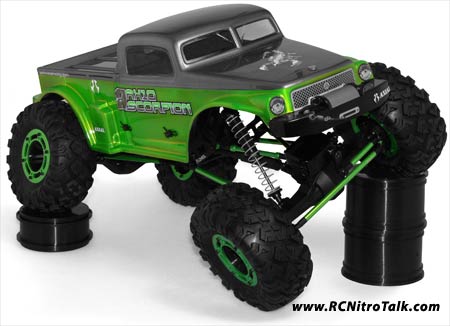 New from Axial, the popular B-17 body is now available uncut in .040″ polycarbonate plastic to withstand the toughest abuse with a clear overspray film, vinyl window masking and pre-cut decals are included. The Axial B-17 Betty Body includes a wing with mounting hardware for enhanced performance. The Axial B-17 Betty body will fit the HPI Savage, Traxxas T-Maxx and Traxxas E-Maxx monster trucks with the marked post mounting holes. Minor modification will allow this body to fit on other monster trucks currently on the market.
Axial Axial B-17 Betty Body Features
Photorealistic die-cut premium vinyl decals include window frames, headlight, grille, tail lights and more!
Overspray film and pre-cut vinyl window masks make painting fast and simple
Dimple marks for body post drill locations
Made from durable 0.040″ clear polycarbonate plastic for long life
Part Number: AX4007 – Axial B-17 Betty Body
MSRP: $33.00
Discuss the new Axial B-17 Betty Body in our RC Body Shop forum!