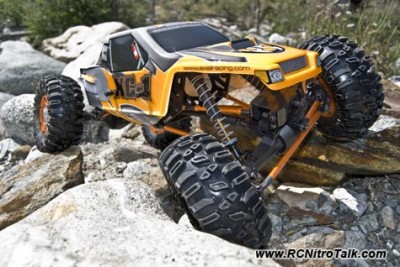 Axial has just released another version of their ever popular Scorpion RC rock crawling truck, this time it's an almost ready to run (ARTR) version. The Axial AX10 Scorpion ARTR was designed from the ground up, and every detail was thought through to provide a competition level base kit to work with. In the past the only way to build a competition capable rock crawler was to buy bits and pieces of several different kit. This long and sometimes frustrating process could take as long as several months just to get the right parts together before you could even start the build. Now you can get a factory built rolling chassis, and within approximately an hours build-time you'll be able to hit the rocks with your competition ready AX10 Scorpion rock crawler.
No crawler would be complete without the essentials, and the Axial AX10 Scorpion ARTR is outfitted with the popular 2.2 8 hole beadlocks sporting orange rock rings, and Pro-Line Hammer rock crawling tires.
To handle the rocky terrain the Axial AX10 Scorpion ARTR features super long nitride coated shocks that offer a wider range of articulation. An optional range of spring rates allow you to custom tune your crawler to work on a wide range of terrain. All suspension links are made from strong lightweight aluminum and anodized in orange. Rear high clearance links are included to help increase ground clearance and prevent hang-ups.
The Axial AX10 Scorpion ARTR comes mostly factory built, but you will still need to add your own electronics such as servo, ESC, motor, radio gear and batteries.
Part #: AX90004
MSRP: $460.00
Discuss the new Axial AX-10 Scorpion ARTR in our RC Rock Crawlers forum.
Axial AX-10 Scorpion ARTR Features
Pre-built version of the award winning AX10 Scorpion Kit. Includes all the aluminum links in anodized orange
Pre-printed orange XC-1 Body that was specifically designed for competition rock crawling – meets 2.2 class rules.
Pro-Line M2 Hammers tires are designed to resist side-wall tire rollover and utilizes a super soft M2 compound. Pro-Line Memory Foams allow for greater tire flex, added stability, larger contact patch, and less bounce action.
Rear axle lockouts prevent hang-ups on the rear axle.
Heavy duty sintered lockers front and rear
High clearance lower links installed on the rear to prevent hang-ups on the rocks.
Matte chrome 8 hole beadlocks with orange rock rings. Re-use your wheel. No messy glue required.
Axial AX-10 Comparison


| | KIT | ARTR | RTR |
| --- | --- | --- | --- |
| Links | Green Aluminum | Orange Aluminum | High strength composite plastic |
| Hi-clearance rear links | – | X | – |
| Electronics | – | – | 27T motor, ESC, hi-torque servo |
| Pinion Gear | 14T | 14T | 14T & 20T |
| Rear Axle lock-outs | – | X | X |
| 80-125mm shocks | X | X | X |
| Battery | – | – | – |
| Lockers | Aluminum | Sintered | Sintered |
| Full ball bearings | X | X | X |
| Slipper Clutch | – | – | X |
| Body | B-17 Betty (clear) | XC-1 (pre-painted) | Baja Buzzard (pre-painted) |
| Adjustable body posts | X | X | – |
| All steel hardware | X | – | – |
| Wheels | 2.2 Rockster beadlocks – black | 2.2 8 hold beadlocks – satin chrome | 2.2 8 hole beadlocks – satin chrome |
| Tires | 2.2 Rock lizards | 2.2 Pro-line Hammer | 2.2 Rock lizards |
| Foams | Standard foams | Pro-line Memory foams | Standard foams |
| Build time | 4-5 hours | 1 hour | 15 minutes |
| Competition Ready | Comp Ready! | Comp Ready! | Requires some upgrades |
| Part # | AX90001 | AX90004 | AX9002 |