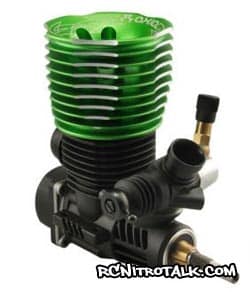 The Axial .28 Spec 2s is a .28 cubic inch big block nitro engine. Replacing the original Spec 1S, the Axial .28 Spec 2S features a larger machined billet aluminum heat-sink head for increased surface area and cooling, adjusted timing for increased RPM (37,500 vs. 36,000), and a three needle slide carburetor that includes 8.0. 8.5, & 9.0mm venturis.
Standard Axial .28 spec 2s features include:
Dual bushing aluminum connecting rod
True ABC chrome sleeve construction for durability
Easy to tune carburetor
The Axial .28 Spec 2s is a direct bolt-in replacement engine for any .21+ engine mount, and will accept most aftermarket shaft drive starting systems.
Part #: AX0320 – Axial .28 Spec 2S Engine
MSRP: $130.00
Discuss the Axial .28 Spec 2s engine in our Engines and Motors forum.