Adjustable Camber A-arms for the Losi LST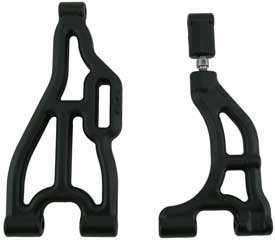 RPM A-arms for the Losi LST are designed for superior strength and durability typical of all RPM products; and we've included a feature not found on stock or any other manufacturer's LST A-arms adjustability! In fact, the RPM LST upper A-arms are molded in two separate pieces. We also include a specially designed 303 stainless steel camber rod in the package to tie the two upper A-arm sections together into one bulletproof A-arm combination. The camber rod has been specifically designed to allow adjustments of the camber angle while mounted on the truck. This means instant trackside camber adjustments are a snap with a set of RPM LST arms.
The lower A-arm has been dramatically beefed up and is molded to a fixed length to improve strength and durability while the upper A-arm three-piece assembly has been redesigned to help support the upright that supports the axle carrier. RPM LST A-arms are sold in sets only, and include one upper A-arm assembly (consisting of both upper A-arm sections and the connecting 303 stainless steel camber rod) and one lower A-arm. These A-arms are available in either blue or black and are molded from our bulletproof blend of nylons for the ultimate in strength and durability.
Part #:
#73192 – Black Losi LST Adjustable Upper and Lower A-arms
#73195 – Blue Losi LST Adjustable Upper and Lower A-arms