RCTalk is supported by our readers. When you purchase through links on our site, we may earn an affiliate commission. Learn more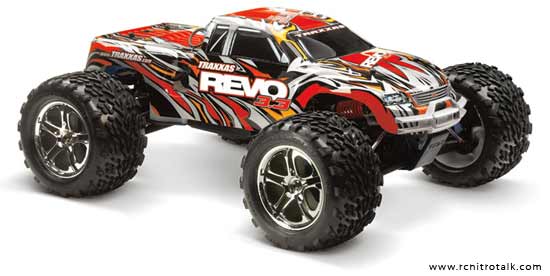 Traxxas Revo Resources:
Traxxas Revo Mods:
Traxxas Revo Details:
The Traxxas Revo 3.3 is upgraded with enhancements to harness the massive power output including 30mm of additional chassis length, increased engine mounting strength, and tighter suspension with installed progressive 2 rockers. There's also a wide-ratio two-speed inside the transmission that takes full advantage of the TRX 3.3's massive power curve for top speeds beyond 45mph! For the hardcore racer, Revo 3.3 has been designed to use the new Traxxas Revo center differential and rear brake kit (sold separately). On or off the track, the Traxxas Revo 3.3 is simply the ultimate, most-powerful machine for jaw-dropping handling and speed.
Engine: More Engine, More Power, More Speed! The TRX 2.5 set the bar and was heralded as "the most powerful small block engine we have ever tested" by RC Car Action Magazine. The TRX 3.3 is bigger, faster and puts out a whopping 60% more peak horsepower compared to the TRX 2.5. The overall power under the curve is nearly 50% greater. This means you get smooth, linear power output with increased performance and responsiveness across the entire RPM range. The TRX 3.3 is for drivers at the highest skill level who have the experienced reflexes for extreme speed and acceleration. Traxxas builds more car and truck engines than anyone so you can always count on the reliability and support that has been proven in thousands of Traxxas TRX Racing Engines. Plus, you're investment is protected by the exclusive Traxxas Lifetime Engine Replacement Plan
Chassis: With the increased horsepower of the TRX 3.3 Racing Engine on tap, Traxxas engineers equipped the Traxxas Revo with a longer wheelbase chassis that has additional support around the engine mount. The longer wheelbase of the Revo combines with the installed progressive 2 suspension rockers to provide the stability needed for foot-to-the-floor acceleration on the roughest parts of the track. Even if you never see a race track, you will appreciate the Revo's ability to drive full-throttle across any kind of terrain.
Transmission: The Revo's transmission delivers innovative two-speed, forward/reverse operation in an ultra-compact package. The OptiDrive electronic shift module uses advanced microprocessor control to sense vehicle speed and optimize forward and reverse shifting. Direction control is performed via a third channel on the transmitter. This revolutionary, patent-pending system allows the transmission to be lighter with fewer moving parts for reduced inertial mass and greater torque handling. OptiDrive provides constant drive engagement for seamless, responsive acceleration. The wide ratio, adjustable two-speed transmission provides no-compromise acceleration and unmatched top speed in one package.
Torque-Control Slipper Clutch The Traxxas Revo 3.3 clutch features a center ball bearing that offers a wide range of adjustment which allows precision fine tuning. Semi-metallic friction pads in the Revo 3.3 clutch provide smooth engagement. The Traxxas Revo 3.3 clutch is also features a fan-cooled alloy pressure plates which draws heat away from the spur gear. The Revo 3.3 also allows you to change spur gears without altering the slipper adjustment.
Suspension: When the Traxxas Revo was first unleashed, the Revo reached far beyond anyone's expectations for innovation in chassis and suspension design. Traxxas Revo 3.3 actually delivers the promise of no-compromise handling. Revo 3.3 constantly varies both the spring rate and damping to match suspension movement. Over small bumps, the suspension is light and responsive, reacting instantly to the surface. Compress the suspension over large bumps and jumps and the rocker geometry progressively increases the spring force and shock damping. In an instant, the suspension automatically becomes stiffer when you need it most. The Traxxas Revo 3.3 provides the best possible spring and damping control for every extreme.
Revo Features:
TRX 3.3 Racing Engine -Backed by Traxxas Lifetime Engine Replacement Plan.
Chassis lengthened 30mm for increased wheelbase.
Includes 5-cell NiMH rechargeable receiver pack with built-in charge jack.
New TRX Power Charger charges NiMH receiver packs and 7.2V EZ-Start battery packs.
OptiDrive electronically controlled transmission.
EZ-Start push-button electric starting.
Revo state-of-the-art transmission
Two-speed forward/reverse transmission.
Pre-glued Talon tires with foam inserts mounted on 3.8″ mirror-chrome Split-Spoke wheels.
Precision adjustable turnbuckles.
Adjustable body mounts.
Integrated roll hoop and carry handle.
Pull handle for fast fueling.
Fully assembled and Ready-to-Race
Includes full-color manual and DVD.
Fully painted, trimmed and decaled Prographix body.
Fuel mixtures are pre-set.
Traxxas Revo 3.3 Pictures: