The Team Associated RC18T goes road rally racing!
You've seen the big boys having fun road rally racing on TV Sunday mornings. Well, the new Team Associated RC18R Mitsubishi Lancer, Citroën Xsara, and the unique AE Kamino ground pounder will soon be burning up the track in your neighborhood back yards and local track!
Just like their cousins the Team Associated 18T, 18B and 18MT, everything is included with the Team Associated RC18R – the car, the transmitter, motor, battery, and charger are all in the box at no extra cost. All you'll need to do is charge the included race pack, add eight AA batteries and you are racing!
The Team Associated RC18R features spoked wheels, an inline-mounted Super 370 high-performance motor, which is bolted to an aluminum motor mount with several mounting holes to fit most aftermarket 1:18 scale hop-up motors.
A high-capacity 1100mAh nickel-metal hydride (Ni-MH) battery pack is included with the 18R, as well as a convenient charger.
Team Associated RC18R Features:
Pre-mounted tires, wheels – even molded inserts! – are included (Inserts, shown at left, are not sold separately).
Painted body with decals.
Spoked wheels.
Oil-filed shocks for smooth and consistent damping.
XP series electronics pre-installed in the 18R are completely modular, allowing easy access to the receiver, steering servo, and the XPS electronic speed control with reverse.
AE AT treaded tires.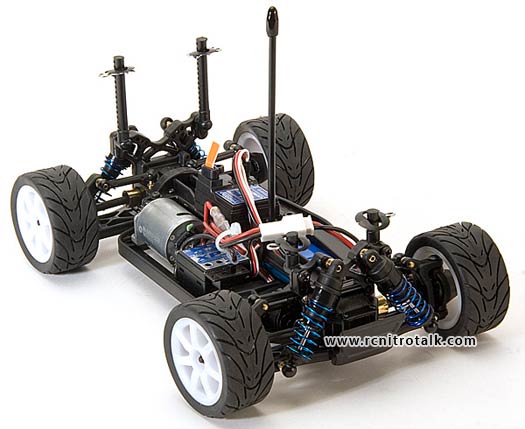 Part #: 20115 – 18R Kamino RTR
MSRP: $289.99
Available: 2nd week of December
Part #: 20116 – 18R Citroen Xsara RTR
MSRP: $289.99
Available: 2nd week of December
Part #: 20117 – 18R Mitsubishi Lancer RTR
MSRP: $289.99
Available: 2nd week of December
Discuss the new Team Associated RC18R mini in our Micro 1/18th forum!