Team Associated RC10T4.2 Factory Team Kit
RCTalk is supported by our readers. When you purchase through links on our site, we may earn an affiliate commission. Learn more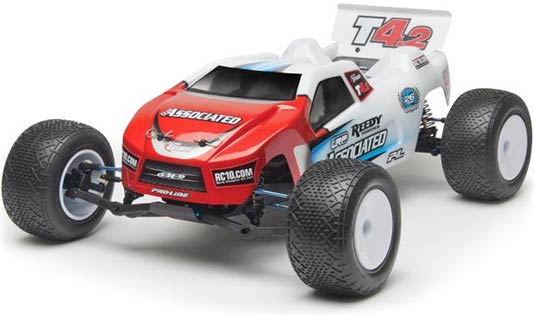 Team Associated has released their latest version of the ever popular T4, the Team Associated RC10T4.2 factory team kit. The RC10T4.2 kit now comes with the latest Factory Team high performance option parts like the 12mm "Big Bore" threaded shocks, VTS slipper clutch, blue aluminum bellcrank set, and 12mm wheel hexes, just to name a few. Also included in the T4.2 Factory Team kit is the Pro-Line Bulldog body.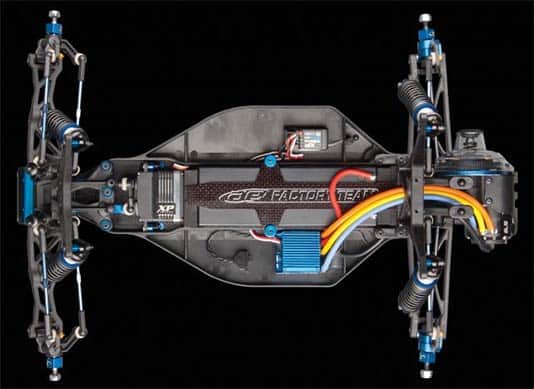 RC10T4.2 Features:
Factory Team 12mm "Big Bore" hard-anodized aluminum threaded shocks with TiN "Gold" 3mm shock shafts
VTS slipper (variable torque, multi-plate slipper with three drive surfaces) assembly featuring a high-resolution spring
Factory Team 12mm blue aluminum front and rear clamping hexes with hex wheels
Pro-Line Bulldog body
Factory Team 7075-T6 blue aluminum 0° rear hubs with oversized outer bearing
Factory Team blue aluminum bellcrank set
Updated shock towers optimized for the 12mm "Big Bore" shocks
Ball differential with light-weight outdrives
Factory Team blue titanium turnbuckles
Factory Team carbon-fiber battery strap and blue aluminum thumb screws
CVA joints with pin retainer clips
Factory Team rear ballast weight
Complete set of precision ball bearings
Factory Team blue aluminum hinge pin brace, milled motor plate, servo mounts, and much more!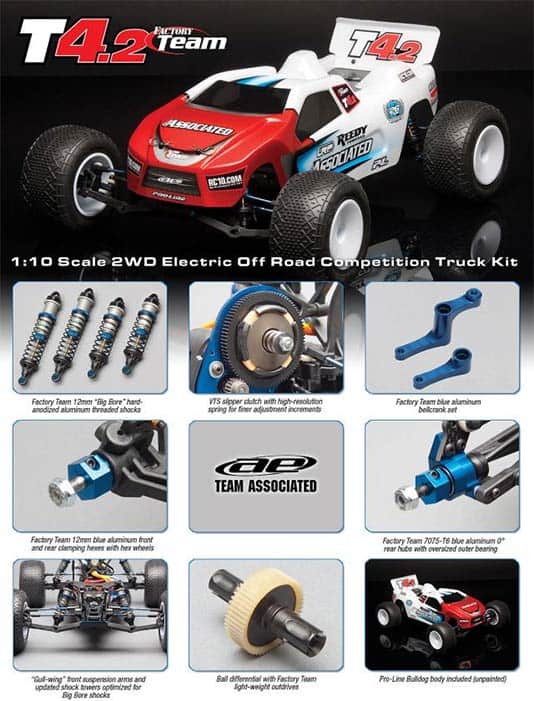 RC10T4.2 Specifications
Scale: 1:10
Power: Electric
Length: 390mm
Width: Varies*
Weight: Varies*
Wheelbase: 288mm
Drive: 2WD
RC10T4.2 Factory Team Kit shown equipped with items NOT included in kit: Reedy motor, Reedy battery, LRP ESC, XP servo, XP receiver, tires and pinion gear. Body comes clear. Assembly and painting required.
Part #7025 – Team Associated RC10T4.2 Factory Team Kit
Available: Feb. 2013